Renee Cassar on her "Live & Learn " acoustic tour
From the solitude of her bedroom in the outer suburbs of Melbourne, Renee quietly and tirelessly worked away on perfecting her edgy, heart-felt pop/rock songs and personally taking them to the world, long before a record company or manager or publisher came along. Even before signing to anyone or anything, Renee's self-generated MySpace success led to her selling an extraordinary 18,000 downloads through iTunes.
But once the good folk at MySpace labelled Renee as Australia's Number One unsigned talent, a title she incredibly held onto for a year, it was inevitable that everyone would come knocking on that bedroom door. "It all fell together in a couple of months," says the effervescent 22-year-old singer of her step up into the majors. "I think it was just fate I was meant to be with the team that I've got around me right now. Good old MySpace – it'll help you along," she laughs.
Renee comes rocking and rolling straight out of the box, sounding like she's been making great pop/rock records her entire life. In fact, she's only had an independent EP to her credit up until now, albeit it a fantastic debut EP she sold at her shows..
Yet Renee has already established herself an enormous fanbase all across the world in the short time since she first picked up a guitar and unveiled this powerful, unique vocal talent of hers. Think a mix between a young Alanis Morissette and a clean-living Courtney Love.
If only the young Renee Cassar had a dollar for every play she's scored through her MySpace page so far, she would be a very rich young lady: Renee's MySpace play-count is, believe it or not, just about to top the 7.5 million mark … and counting.
http://www.myspace.com/reneecassar
Aaron Lyon
is a Sydney singer/songwriter. Plays regularly around Sydney, often at the Artichoke Cafe.
Aaron has a great voice - enjoy his bluesey/sultry mix.
http://www.myspace.com/thataaronlyonthing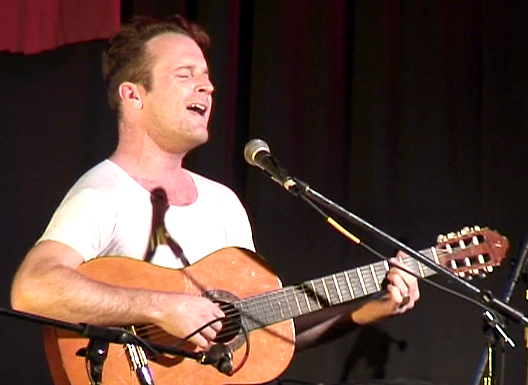 Sam Buckingham, Kent Eastwood & Renny Field on their "Round Robin Tour" - special guest Sarah Humphreys
Following the success of their performances at the 2009 Tamworth Country Music Festival, three of Sydneys most recognised up and coming singer songwriters team up again to bring a special acoustic show nation wide in March 2010.
Renny Field is one of Sydney's most promising young singer-songwriters.
Endearing, strong and equally as comfortable strumming a folk inspired treasure on guitar or captivating the audience with his powerful piano ballads. Since returning from Europe on a two month tour, 2009 saw Field put the finishing touches on his third studio album The Arena and release it nation wide. "The depth of craft in his writing and skill in his performance is extraordinary" Drum Media.Australia's new folk-pop sweetheart.
Sam Buckingham has been touring constantly since mid 2009 to support the release of her third independent studio offering "Gravity". The title track was inspired by a conversation with her mother about all things large and unknown in our universe and opened the door to a flurry of songwriting documenting all aspects of Buckingham's life - love, lust, family, loss and the constant search for the good in everything. Honest, real and with one of this country's sweetest female voices Sam Buckingham is ripe with promise and charm. "An impressive emerging folk star" Rip it Up.
Listening to Kent Eastwood's debut album Through The Days it's the strength in his songwriting that strikes you first. With honest emotion and a rugged, blues-boy Australian charm this is one singer songwriter you can't help but adore. The 2008 release of Through The Days saw Kent embark on a national tour to support its release and more recently a writing, recording and touring stint throughout New York. "His music will slip through your defenses, disarming any possibility of resistance" Folk & Acoustic Music Exchange.
Each a budding, successful singer songwriter in their own right, the last few years has seen these three troubadours play alongside the likes of Mia Dyson, Clare Bowditch, Lior, The Basics, The Whitlams, Abby Dobson and Angus & Julia Stone. This, combined with relentless touring, festival shows, Triple j, Fbi (Sydney), RRR (Melbourne) and countless community
radio support, their independent records are enjoying success around Australia. The three solo artists now join together for a very special national tour experience. All three artists are stage together telling stories, swapping songs and joining eachother in a performance of harmonies, interpretations and musical comradery. This is new and exciting Australian music at its best and a show not to be missed.
http://www.myspace.com/rennyfield
http://www.myspace.com/sambuckinghammusic
http://www.myspace.com/kenteastwood

Sarah Humphries
ABC ARTIST OF THE YEAR - 2009
'Folk-pop doesn't get much better than this song. (Waiting To Burn) A perfect mix of self-confessed vulnerability and confidence with instrumentation that makes you want to clap along.' - Dom Alessio, Triple J

'A disarming songstress...' - fasterlouder.com.au

'Earthy, grounded and honest...Humphreys holds similar visual qualities to an old antique book on the shelf of a second hand book store: she doesn't do much but her stillness encourages the watcher to pay attention to the words within. Luckily they're worth paying attention to.' - Drum Media

'Humphreys plays it open and intimate.' - Bernard Zuel, Sydney Morning Herald
Benton & Storm
Bobby Benton and Marvin Storm met back in 1988. As front man for The Swinging Sixties Bobby was at the time auditioning for a singer/guitarist and Marvin stepped in.
Aside from making great inroads into the corporate function scene, the highlight of The Swinging Sixties early 1990's period was Sunday nights at The Woolloomooloo Bay Hotel where the band entertained audiences of up to 400 people over an 8 year period, and perfected the art of reading the crowd which in turn led to the ultimate sing-a-long! Bobby left the band shortly after this residency ended while Marvin stayed on.
After Bobby rejoined The Swinging Sixties in 2009 one night while loading out of a gig he and Marvin hatched the idea of forming an acoustic based duo. According to Bobby, "Soon after rejoining the band I realized that times had changed, baby boomers were out less and the number of venues had diminished. Basically the Woolloomooloo Bay Hotel held great memories but was history!"

As a duo Bobby and Marvin can take the lessons of Woolloomooloo and many other gigs back on the road along with their collection of harmonicas, acoustic guitars and a stomp box. As experienced musos and performers drawing on material from 5 decades rather than just the '60's, they can widen their appeal to a more diverse audience. However most importantly, they can get out a few times a week and do what they love most to do - entertain