Shane Flew Trio
In the past 30 years, Shane Flew has worked with most major names in Australian music, playing drums or percussion and singing, covering all style variations; Rock & Roll, Pop, RNB, Country, Blues, Soul, Swing, Celtic, Cajun, Latin & Folk. Appearing in the country's smallest pubs to the city's largest stadiums and everywhere in between.
In the recording studio, Shane has played and sung on over 40 albums and performed his way through innumerable jingles and soundtracks. All this time he has been an aspiring songwriter, having had some of his tunes recorded by other artists.
After many years of touring a decision was made to work harder at his guitar playing and focus on his songwriting, with the intention of forming a solo career.
His debut solo CD, "7,000 Miles" was produced by Matt Fell and released independently in 2002. Made up of 13 original acoustic guitar based songs full of melody and harmony, in what has been described as "Rock Americana" or "Folk Rock".
Shane is now a regular contributor to the Sydney live music scene performing as a solo artist and adding musicians to the unplugged duo or trio format. He also has his five piece band, "The Cuckoo's Nest", made up of some of the very best musicians the city of Sydney has to offer.
Touring up and down the East Coast of Australia as well as the inland cities and country towns.  So far having performed at the Tamworth Country Music Festival, Mildura Country Music Festival, Balmain Peninsula Guitar Festival, Music in the Vines at Joadja Winery, Gympie Music Muster, Southern Highlands Country Music Festival, the Freshwater Fair, Undara Country Rock & Blues Festival and the Kidgeeridge Music Festival, with more to come.
In 2006 Shane released his second album titled "Shaking Up The Mystery", showcasing 11  new original songs. Produced by Rex Goh and featuring more of Sydney`s best musicians and singers. The second CD is released on Regal Records, distributed through MGM (Australia).
Tonight Shane has a assembled a group of virtuosos, namely Dan Johnson on guitar, Michael Vidale on upright bass and Lloyd Gyi on percussion, to form The Cuckoo's Nest.
Van Sereno and Byron Mark
Van Sereno likes to be known as a songwriter first and foremost, a singer and guitarist next; and an all round entertainer/showman of the highest standard to top it all off. Van has worked as session guitarist and vocalist on numerous recording projects; and has worked extensively in various bands, both covers and originals (Evail, In Full Swing, Afrofunk, Jacuzi, The Pop Experience, etc). Not new to the Sydney live circuit, he was most well known for being the frontman for VAMPit, an original funk/groove outfit and his first vehicle for his songwriting.
Van founded VAMPit in June 1999, worked at his craft and slowly but surely Sydneysiders accepted this band as a solid and funky dance group that would sustain the volatile live scene for a further four years. On April 17, 2004, VAMPit played it's final performance to a capacity crowd at Paddy Maguires Pub in Star City Casino, saying farewell to its loyal fans and signalling the end of an era. Paying his dues with a host of talented musicians, (Joel Townsend, Kevin Mendoza, Grant De Villiers, Shaun Clilverd, Gerrard Cole, Anita Gavranic, Zoe Velez, Angus Steventon, Dan Noonan, Phil Dooley and Aaron Carruthers) Van regarded VAMPit as an invaluable experience, a major chunk of his life where he learned the trade and grew up to be the performer he is today.
Strongly rooted in RnB and Jazz, Van is adamant to make music that means something, songs that have a strong message with a catchy chorus (or a hook as he tends to call it). He mentions Babyface, George Benson, Stevie Wonder, Bobby McFerrin, Stevie Ray Vaughn, Ronny Jordan & Tommy Emmanuel as strong influences. These days he enjoys listening to Ben Harper, Ani De Franco, John Mayer,
& Jack Johnson among others - after attending a live show, many compare him to such artists.
Byron Mark is well known in the Sydney live circuit having played many sessions with numerous bands up and down the east coast (from Byron Bay to Kiama). First appearing as band leader for Dliver, he now works regularly as
both a talented keyboard player and percussionist to the funkiest party band "The Bakery". Also working for Kinetic Method, Rosie, Gervai Kofi and Catch3, we are fortunate to watch him in an intimate setting with his old friend Van.
http://www.myspace.com/vansereno
Uncle Jed is an all original funk, soul, reggae mix with a pumping energy. 6 piece for the Manly Jazz Festival!
Its members have been writing songs together for the last six years. Starting out as a long distance project, brothers Danny Stitt (bass) and Shannon Stitt (keys) would write from their home in Coffs Harbour, and cousin Laura Stitt (vocals) would write from her home in Sydney.The resulting CDs were swapped by post to complete their first creations.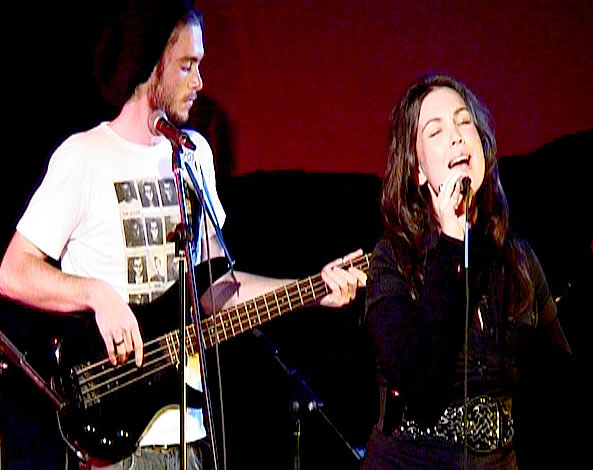 Soon, after a few family bashes where the three would meet and collaborate, the two boys decided to make the move to Sydney to further their musical careers. After completing their first tour "The Funk Stops Here" travelling the North Coast, Uncle Jed are looking to spread their wings and share their sound with as many people as possible.
While at present, enjoying playing in their home town Sydney, Uncle Jed has aspirations to travel far and wide to experience the appreciation of international crowds.
For bookings contact dirtrhodes@hotmail.com