Zoe Elliot- indie/folk/pop
"You are incredible, it made me cry. .. I was gripped, the lyrics are beautiful,.. so inspiring. You have the voice of an angel..." Rebecca Gibney Oct, 2009, The Peninsula's Got Talent
Zoe is from the Northern Beaches .  Her fresh, charismatic and emotional performances have already built her a loyal following. Her voice has a melting tone. However there is plenty of voice for her bigger ballads and bluesy songs. She has the ability to get the crowd joining in, yet also able to captivate them with heart reaching story telling. Songs are melodic, insightful and full of imagery.
She opened for Dragon at the Old Manly Boatshed, has performed at the Basement, Fairlight Folk and Beach Folk, for Manly Council events (incl. New Year's Eve) and at local pubs and restaurants. Zoe performed at the 2009/10Manly Food and Wine Festivals and is a favourite at The Manly Fig. She has been influenced by artists such as Declan O'Rourke, Bic Runga, Damien Rice, Janis Joplin, The Fray, Joe Cocker, Dido and Kate Miner.
Zoe was the grand final winner of the 2010 Australian Songerwriters Conference Competition. In 2009 she won the Songs Alive singer songwriter competition at Belrose and was the 2008 runner up. In 2010 she won the 2GO song-writer award. She is currently recording her next album, "Precitpiate".
"Astonishingly beautiful... the show is watching you being so honest.. " - Mondo Rock's Paul Christie Oct, 2009, The Peninsula's Got Talent
"..sad in the most beautiful way,... incredibly engaging, ..engrossing, ... performed with absolute honesty.." - Iva Davies of Icehouse, Oct, 2009, The Peninsula's Got Talent
www.ZoeElliot.com
www.myspace.com/ZoeElliot www.sonicbids.com/ZoeElliot
Bridie King - Blues/boogie/zydeco
"The night cogged into overdrive with the arrival of Bridie King" - SMH.
Bridie King has long been considered one of Australia's top Blues and Boogie pianists. 
Get on board a roots music express as Bridie, on piano and piano accordion, takes you on a wild musical journey from Kansas City down through Memphis, Mississippi and all the way to New Orleans. The ride takes in all musical whistle stops - boogie woogie, blues, soul and zydeco.

Bridie has attracted many overseas performers to play as her special guests. They include Buddy Miles (Jimi Hendrix Band), Jimmy Vaughan (Stevie Ray Vaughan and The Thunderbirds), Johnnie Johnson, and members of Dire Straits and Soko Richardson (Tina Turner's Band).
Bridie became a bandleader in 1997 when she formed Bridie and the Boogie Kings. They sustained a 9 year residency at the Bridge Hotel and played many festivals including those at Manly, Darling harbour, Narooma, Thredbo and Wangaratta, plus the Melbourne International Women's Jazz Festival. A writeup of the 2000 Wangaratta festival in the national paper The Australian claimed that.
In July 1999 Bridie recorded her first CD under her own name, titled My Blues. The CD attracted excellent reviews. John Shand of the Sydney Morning Herald enthused that 'Bridie oozes vitality'. A reviewer in the Melbourne Sun felt  the music of 'My Blues' was 'in the key of joy.' The CD has sold 2000 copies and is on its second pressing. It has featured on the ABC  shows, the Planet and  Andrew Ford's program, and on numerous FM stations.
Bridie has also played live many times on radio and TV. In 2003 she accompanied Eric Burden on Bert Newton's Good Morning Australia and on ABC radio. She performed over 10 times on TV between 1986 - 1988, and on ABC radio in 2003, 2004 and 2005, and several times on 2MBS FM, most recently in 2007.
Current Line-Up:
Bridie King: bandleader, piano, organ, accordion
Matt Ross: vocals and guitar
Mike Rix: bass
Katie Glendenning: frottoir (cajun rubboard)
Bridie was invited as special guest to play with Blues guitar legend Albert Collins. He said of Bridie - "You can play and you cute too".
"You're really serious, ma'm'" - Jimmy Vaughan (Steve Ray Vaughan).
"Nothing beat the Blues and Boogie of Bridie King" - The Australian.
"A driving force in the Sydney blues scene for 3 decades" - FM Magazine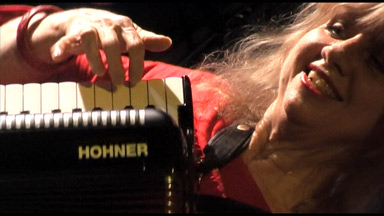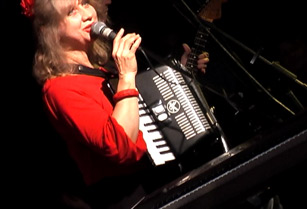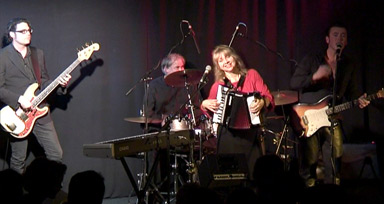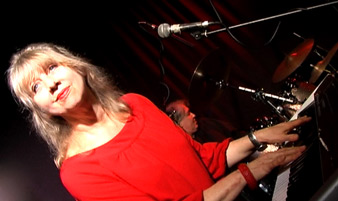 The Domestics - fun/rock/ska/jazz
Formed in late 2006, The Domestics have been creating funk/rock originals since.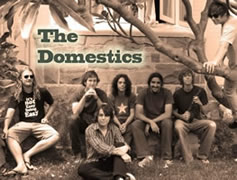 The Domestics have recently come out of hiding in January of this year and have since played gigs and residences at many of Sydney's premier venues, including The Annandale Hotel, The Hopetoun Hotel, Oxford Art Factory, The Lansdowne Hotel and the Gaelic Club. They have just released their first EP.
Infusing Funk, Pop, Rock and Jazz with an upbeat energy The Domestics have been described as having a "an electric passion that pervades their performance space... their music becomes a unique yet unpretentious soundscape that could see these guys connecting with a wide variety of audiences" (Music Feeds March '09).
Guitar - Mislav Belobradgic; Lead Vocals - Wil Eastley;
Drums - Harrison Wood; Trumpet - Robert Campbell;
Tenor Sax - Louis Klaassen; Alto Sax & Keys - Bass - Lee Campbell
If you would like to contact us please send us an email:
www.thedomesticsband.com
www.myspace.com/thedomestics7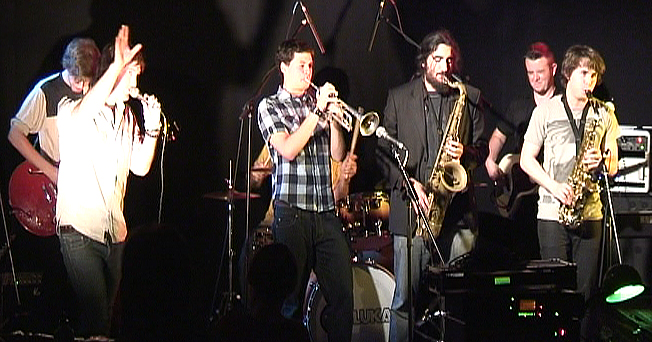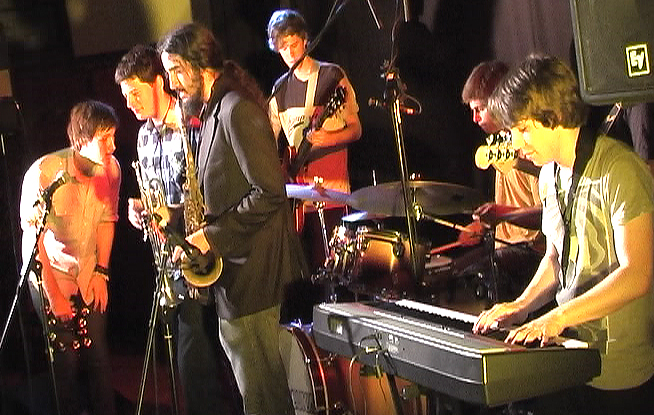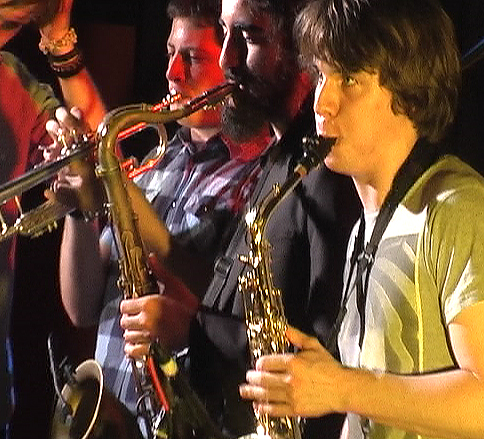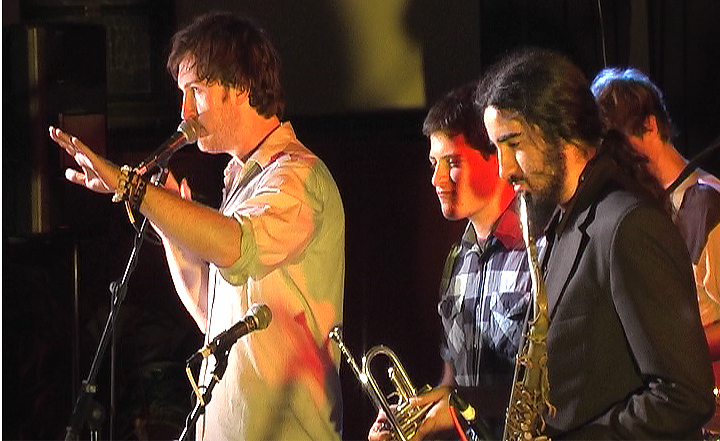 Images/FigNights/201007Fig/201007FigBridieMulti_5471sml.jpg
images/FigNights/200911Fig/WebJPGs/200911Fig26.jpg