Steve is leader and raconteur of the award winning Handpicked Band. His first solo album Goin' it Alone, was nominated for the 36th CMAA Instrumental of the Year, the TIARA for Male Vocal & Instrumental and five Country Music People's Choice nominations. With the release of His album Timberman & Other Tales in early 2010 Steve has recently been selected as finalist in the Golden Saddle Independent Awards and the Saddle Video Awards. Steve is also the very proud recipient of the Slim Dusty Community Mateship Award 2010 a Nominee for the 2011 CMAA Awards & the Victorian & National Country Music Awards 2011.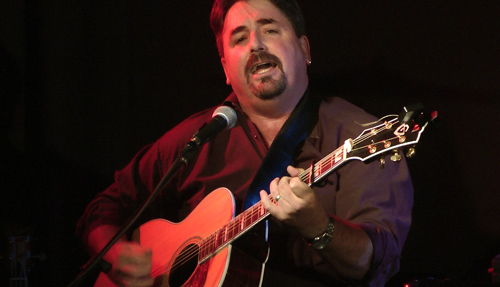 With a quick wit and always a firm grip on the entertainment ethic, Steve has the ability to entertain any crowd. His songwriting is as diverse as the instrumental music he loves to play. Steve Passfield is a show worth leaving the TV for!

Awards:
36th CMAA Country Music Awards of Australia, Golden Guitar Winner – Instrumental of the Year 2008
TIARA Winner – Barry Thornton Memorial Award - Instrumental of the Year 2008
TIARA Nominee – Male Vocal 2008
People's Choice – Most Promising Future Star 2008
Australian Songwriting Competition Top Ten 2008
MusicOz Finalist 2008
Golden Saddle Finalist 2010
Golden Saddle Video Finalist 2010
Slim Dusty Community Mateship Award 2010
CMAA Finalist 2011
Victoria & National Country Music Awards Finalist 2011 Male Vocal, Instrumental & Bluegrass
Steve is proudly endorsed by:
Fender Australia and Group Technologies
Discography:
Steve Passfield & The Handpicked Band -
The Country Salute 1997
Best of Mates 1991 
Handpicked Live at The Mean Fiddler 2003
Handpicked 21st Anniversary Reunion 2009
Solo -
Goin' It Alone 2008   
Timberman & Other Tales 2010
Previous performances include World Music Festivals in Austria, German Cruise Ships, support for Troy Casser-Daley, Beccy Cole, Adam Harvey, The Slim Dusty Country Ball, Australia Day Functions for Maitland Council, Kuringai Council, The Entrance & Qantas, The Entrance Country Music Festival, Tamworth Country Music Festival, Norfolk Island Country Music Festival, The Gympie Muster, Nelson Bay Country Music Festival, Australian Promotions in Taiwan, Hong Kong, New Zealand, Irish Festivals in Auckland, Tullamore, Sydney City, St Patricks Day Parades in Auckland & Sydney, picnic race meetings in Parkes, Bedjerabong, Bush Tucker Festival at Trundle, The Slim Dusty Memories Concerts, The Lovedale Long Lunch and Mudgee small farm field days.
Stewart entered the Australian music scene in the early 90's as vocalist and songwriter for indie-pop band Eva Trout. The band was signed by US label Trauma Records and toured both Australia and the States. Their song, Beautiful South, received significant radio play and the band appeared on GNW, VH1 and US TV programs. Stewart's other musical involvements include working with Perry Keyes & Give My Love To Rose, performing drums and vocals on his recordings and live shows. She also played drums and sang on Grant Shanahan's album - The Leisure Suit, " Into the Antipodes Sun ".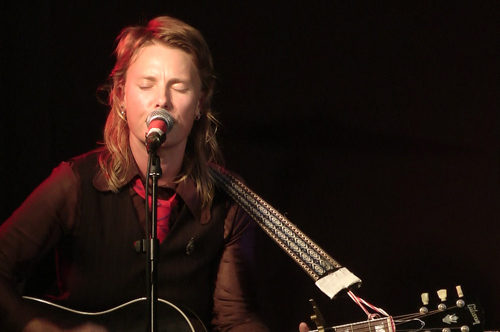 Stewart's solo career was launched with "Junior Years" in 2007. Released in Australia and Europe through Laughing Outlaw, the album was lauded by the critics.  Junior Years  tells the story of the struggle between love and hate. "A superb female rejoinder to Ryan Adam's Heartbreaker." David Cowling, Americana UK, June 2007.
Stewart uses music as a vehicle to communicate her realities and intimate connections with the world around her. Inspired by storytellers of a personal nature she drew early influence from the likes of Neil Young, Leonard Cohen and Aimee Mann.
"Winter Summer Suburban Exile" is Stewart's second solo album, released through Laughing Outlaw in August 2010. She uses rich and beautiful melodies to tell stories of loss, love and redemption. The spirited, at times joyous, style of her music often starkly contradicts the depth of content contained in the emotional landscape portrayed by her words. The evolution of Stewart's songwriting is evident in the album as she arrives at its conclusion, to her strongest authentic voice as a storyteller. This album is a journey exploring freedom versus restraint, raw and unapologetic in its coverage of such complex terrain. With an emphasis on vocal clarity, the music is allowed to serve as a fertile background for the narrative. The album ranges from anthemic songs, with St Marys' Bells and Henson Park Skies, through darker times with No Sunrise, No Sunset and Diving Bell, to the lightly romantic Money Never Spent on Romance and Only One of You.
It was recorded at Leisure Suit studios, near Mangrove Mountain, NSW, with long-term collaborators, Grant Shanahan, Matt Galvin and Michael Carpenter, who jammed together laying down tracks in a couple of takes. Their is an emphasis on understatement ensuring nothing was sonically overworked. Creative direction was driven by Stewart herself, with engineering and co-production support from Shanahan. The result is an album that is strong and instinctive in its melody, and at moments - such as the rise in St Marys' Bells – humbling.
Stewart has recently played live on ABC radio and on TV in a feature on her in Stateline.
www.myspace.com/bekjeanstewart
The Beatles Tribute consists of 4 seasoned musicians. Three of these Sydney based musos currently play in a Beatles tribute show in QLD which draws large crowds in some of that states biggest RSL and leagues clubs.
They have the same outfits, guitars and drum kit as used by the Beatles and they sound so close to the original that some Queenslanders have believed that they are the real Beatles. We hope that Sydney audiences are aware that 2 of the Beatles are in fact deceased so won't embarrass these guys in the same way.
They should provide our first sing-a-long type night at The Fig. Combine that with a whole lot of dancing and we should have a memorable night.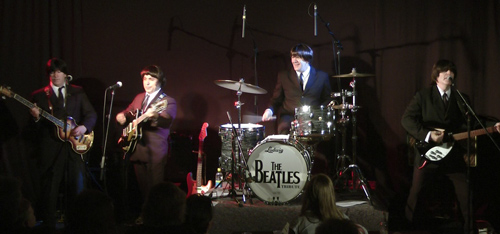 Live audio sample from an i-phone:

<embed src="images/FigNights/201104/Twist N Shout.m4a" width="204" height="82"></embed>