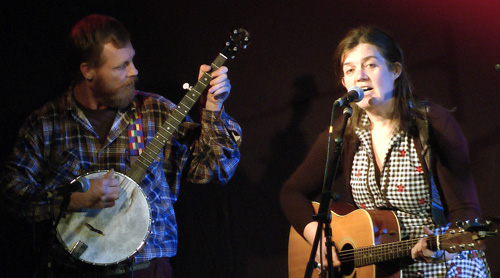 Helen has earned her reputation as a talented and respected Melbourne songwriter, musician and teacher.  Last year, Helen released her first solo album and theatre show "The Bride" in a sold out launch, and won The Melbourne Ukulele Festival's Songwriting Competition. Reviews of her performances suggest her spare folk and country arrangements on guitar, banjo and ukulele can hold an audience in a moment that lasts long after the last song is sung.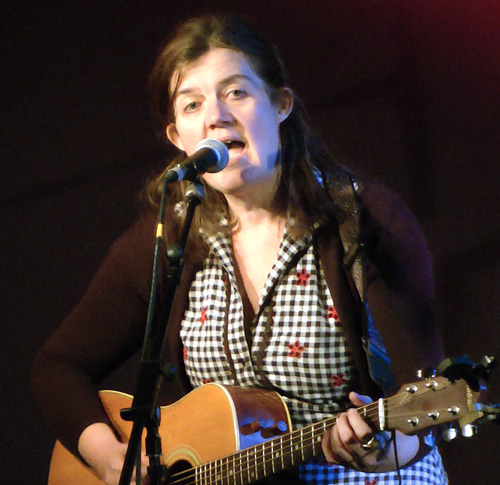 Best known as the main songwriter with her former band, Milk, she has written original material for popular independent artists Carl Pannuzzo, Penny Larkins and Jody Galvin and collaborates with Nashville lyricist, Clint Land.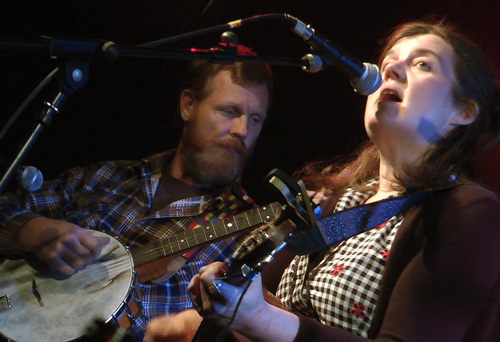 Her writing credits extend to poetry, spoken word, stories, blogs, scripts and reviews. She is an experienced workshop facilitator and able to lead even the most inexperienced people through fun filled songwriting journeys that touch on lyric and music writing, storytelling, tips and tricks, and song arrangement as well as songwriting.
Over the years, Helen has travelled Australia playing to audiences in country towns and capital cities, in venues as diverse as concert halls at folk festivals, rickety stages in Tasmanian forests and iconic gig rooms in inner city Melbourne. This year she is excited to be touring this new album both nationally and internationally.
As well as her current album, Helen's songs have appeared on three Milk CD's 'Made' (2001), 'Golden Ring Life' (2004) and 'Shipwrecked at the Royal Oak' (2007) as well as a number of compilation albums including 'Girl Comp2', 'Reels and Roads' with Lucie Thorne, 'Rock Against Bullshit' (2006), Carl Panuzzo's latest album "20 Ukulele Greats" (2008), the Wilderness society's "Forests Forever" (2008) and various Folk festival Compilations including Nannup and Cygnet. .
In 2010 she appeared at the Top Half Folk Festival in Darwin, Kilmore Celtic Festival, Kangaroo Valley Music festival, Uranquinty Folk Festival, Canberra Country Music Festival and The Maldon Folk Festival as well as appearing at venues across NSW, Victoria and Tasmania. She was invited to judge the Victorian Bush Poetry competition and The Man from Snowy River Poetry Competition and has previously judged the Darebin Songwriting Competition Grand Final. This year she was commissioned by Radio 3CR to write and perform a radio song tour of her original song "All aboard the Pirate Ship". Her work has also been played on ABC and community radio stations across the country.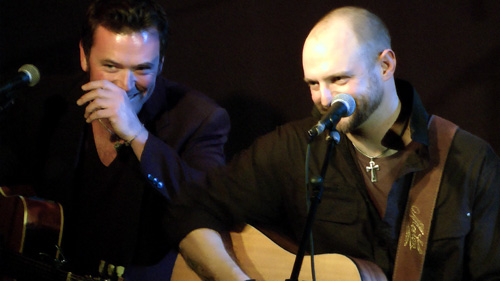 For Australia's best-known Shearer, things simply keep getting better in 2011.
By the end of January Luke has already released the single Underdog gaining national radio play, sung for the Prime Minister on Australia Day, played crowded rooms at his debut appearance in Tamworth, performed alongside Tommy Emanuel, gained a spot on the prestigious Global Artist Showcase in Nashville and won the coveted Toyota Star Maker Award 2011.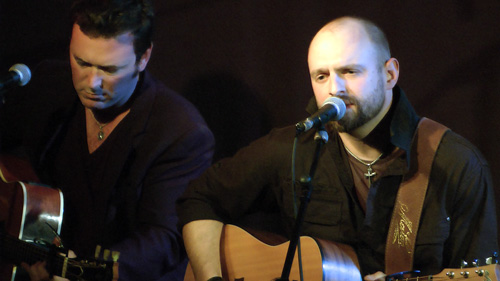 2010 saw the release of Luke's debut album Underdog and has garnered rave reviews around the country.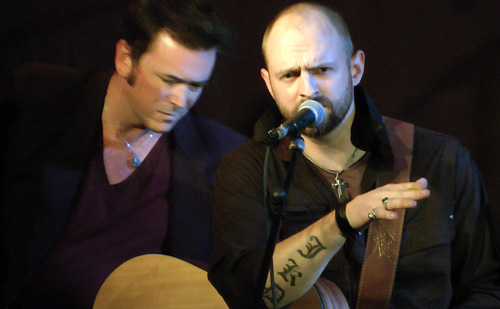 Taking in NSW, Qld and Victoria Luke also traveled to Afghanistan where he and the band performed for Aussie troops. In December he headed to Egypt with Beccy Cole to bring a bit of home to troops abroad for the Christmas season.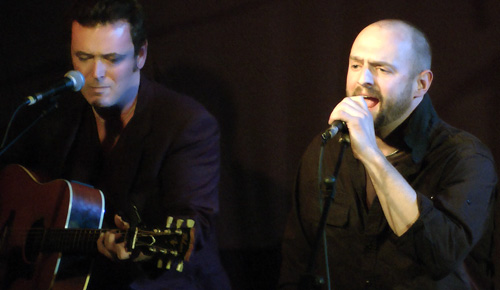 Luke also hit the road with Golden Guitar Winner Victoria Baillie, New Horizon Winner Amber Lawrence and Toyota Star Maker Winner Luke Austen in 2010 taking the best of new country and rock music across the eastern seaboard.
There is clearly something about Luke's story that resonates deeply within the Australian psyche. A country kid with a yin for the outback, Luke left school at 16 and plied his trade shearing sheep in the dusty outcrop of Young for the next nine years – a life he would have been quite happy continuing to lead – however, a dare to audition for Australian Idol soon changed everything.
Luke's honest spirit, soaring voice and natural charisma saw the Australian public take him into their hearts and in return crowned him runner up in the competition– not bad for someone who had never set foot in the music industry. 2008 to be a landmark year for Luke in more ways than one with his first son, Jordan, born in the midst of the competition.

www.lukedickens.com.au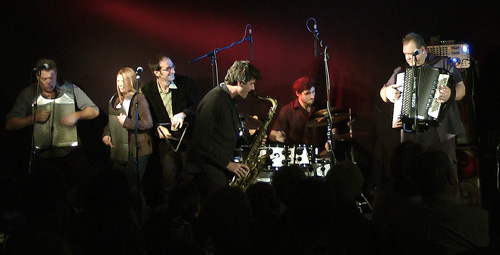 Sydney based Psycho Zydeco, or the Psychos as their fans affectionately dub them, have established themselves as the country's premier roots act specialising in the high-energy, uplifting style of music known as zydeco. This music was originally born in the swamplands and bayou area of Louisiana's Deep South. The band's earthy blend of traditional Cajun, blues, and swamp music produces a heady mix of their brand of Zydeco. Driving washboard, drums, guitar, saxophone, organ, piano and the odd triangle combine with some amazing accordion playing creating music that will make you move.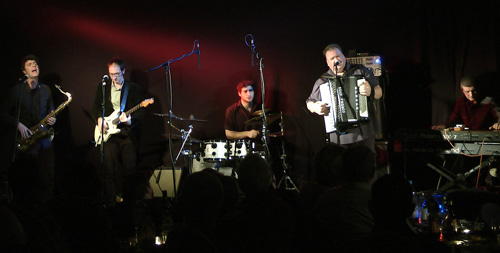 Since 2007 Psycho Zydeco have been performing with Gareth Cooley on drums and George Bibicos on piano and Hammond organ. This has led to a greater warmth and diversity in the band's sound. Gareth and George's playing has helped create a fresh vibe amongst the group and has been embraced by fans as a great new addition to the wild ride that is Psycho Zydeco.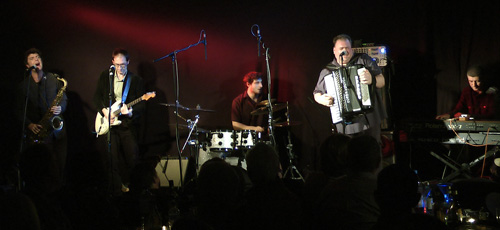 With performances at every major music festival nation-wide, TV and radio appearances and three tours of the U.K. and Europe, Sydney based Psycho Zydeco are one of the most successful touring 'blues/roots' acts in Australia. All four of the band's recordings, Swamp Box, Sell Your Soul, Zydeco Factory and Get On Board have been favourably received by fans and critics alike.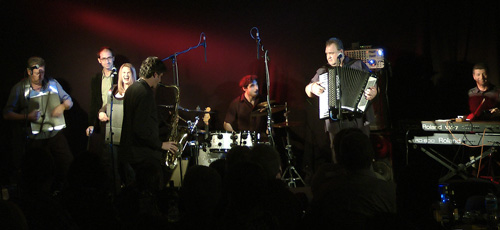 Cajun and Zydeco music were spawned from the melting pot of cultures that is New Orleans and Louisiana. When French speaking Acadians were exiled from Canada in the 18th century, many settled in Louisiana alongside the local Native American Indians, African slaves and European colonists already living in the region. They became known as Cajuns and their folk music became influenced by the surrounding cultures. Utilising button squeeze-box, fiddle, whistles, triangle and washboard, by the 19th century accordion was introduced as well as Spanish guitar and black Creole influences. Psycho Zydeco add saxophone and drums to this lively musical gumbo, creating a rollicking R&B mix that's guaranteed to keep any dance floor crowded.
Through the years Psycho Zydeco have released several albums, toured internationally, performed at festivals big and small, and generally helped spread the beauty of the zydeco sound. The heady mix of traditional cajun, modern zydeco, blues and funk can conjure the atmosphere of an open air music festival, or a steaming late night jam.
The latest release is their fourth album, Get On Board.
"Psycho Zydeco has recently released one of the finest homegrown roots music albums of the past decade, which is worthy of an ARIA nomination.
Get On Board is a 16-track romp through the world of traditional and contemporary zydeco, interpreted in Psycho's own unique style.
There's a solid collection of originals, some classic covers from artists such as Terrence Simien and Clifton Chenier and some real contemporary grooves along the lines of Chris Ardoin. It's highly recommended and worthy of an ARIA gong in the best roots category."
Pedro Manoy
Drum Media, Sydney
Psycho Zydeco are:
Stefan Sernek: Vocals, Accordion, Bass.
Gregg Hatton: Vocals, Guitar, Frottoir, Triangle.
Christopher Wilson: Vocals, Saxophone, Frottoir, Triangle.
Gareth Cooley: Drums.
George Bibicos: Organ, Piano, Percussion.