Sydney to Beechworth
18-23 March, 2001
18/3/2001 (Sun) Berrima, Bundanoon
After a late and frantic departure from our home and a lengthy stopover in Liverpool to get and fit a truck air-filter cover, we left Sydney.
We stopped for a sugar boost at Berrima. It was as I had vaguely remembered - a pleasant place to spend time - but not we were looking for.
It was a very pretty drive through the 'southern highlands' to our first night stop at Bundanoon. Travelling in the van is proving as salubrious as we had hoped.
We parked for the night in a suburban street near the gloworm grotto. After our first dinner on the road we headed off into the pitch black bush with our trusty torch. The bush track was rough & steep; our torch battery was geriatric so we moved like 4 blind mice. We spent much time groping, tripping & slandering our torch. Luckily 2 couples, overflowing with torch light, caught and passed us. We followed them in tight formation to the grotto.
The grotto was beautiful. Perspective was impossible in the blackness so my senses alternatively reported seeing a vast city of lights or an intimate watery valley glistening with fairy lights.
However when the other group left we had no hesitation in following them closely back to civilization.Our first night's sleep in the van was deep and dreamless.
First stop: Berrima for milkshakes and ice-creams
19/3/2001 (Mon) Longpoint Lookout - Canberra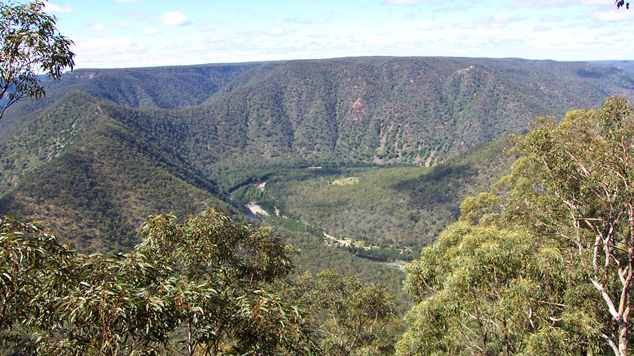 Climb down to Longpoint Lookout
En route to Canberra we stopped at Long Point Lookout. This was a view I strongly remembered from my solo round-Oz trip in 1976. It is still magnificent though the climb out to the end of the point seems scarier.

Arrivd in Canberra and visited the National Art Gallery to see the Monet exhibition and other works. It was excellent.

Stayed overnight in a street-side at Manuka, near a school.
20/3/2001 (Tue) Canberra
Visited Questacon - a great day. The exhibits are good enough to tempt even school-kids to want to learn. Jake and Zoe were certainly captivated.
| | |
| --- | --- |
| | |
| Zoe in free fall | Starring in a soccer match on video. |
Stayed overnight outside Manuka swimming pool for swimming/showers.
Met Ross Stokwell - an inventor of 3D TV. He showed us his work that evening.
21/3/2001 (Wed) Albury (by the Murray River)
Had fun in the new National Museum in Canberra, which only opened last week. This also an excellent learning centre with some truly outstanding features.
The highlight was Kspace where you design a futuristic house and vehicle and it is replayed on a big screen in 3D.
And... the diprotodon skeleton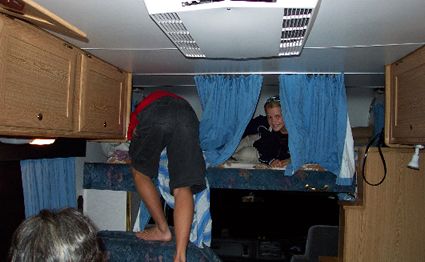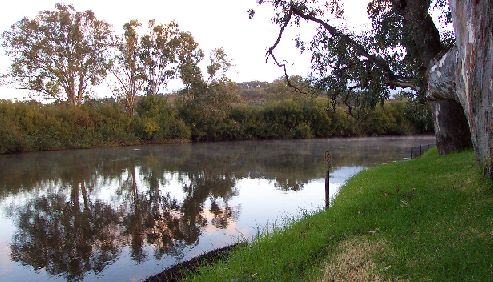 We stopped overnight in an Albury park beside the Murray in this idyllic spot
22/3/2001 (Thu) Yackandandah, Beechworth and a Swim at Wangarratta
Yackandandah and Beechworth are outstanding historical towns. Beechworth is famous for its gold rush days and for hosting the Kelly family.
Since we crossed the border the temperature has plummetted and today we had sleet at Beechworth.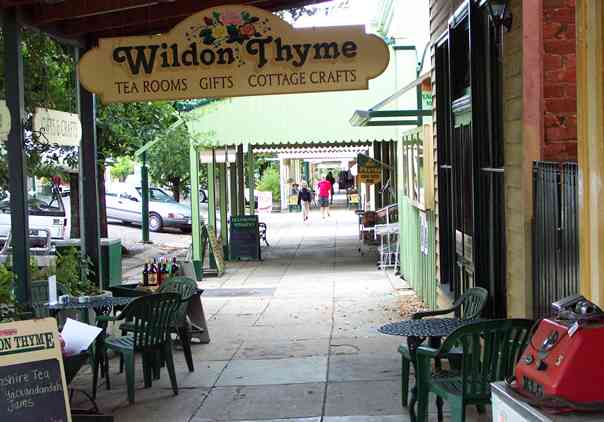 Yackandandah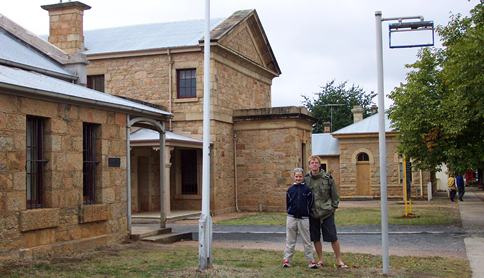 Beechworth Courthouse, and SubTreasury (Circa 1850s)
We stopped for the night at Wangarratta near a public heated indoor swimming pool - hot showers after a swim.
23/3/2001 (Fri) Euchuca via Shepparton
Shepparton is the centre of a big food processing area (the Goulburn Valley).
We stopped first at the Campbells factory store & filled the van with tinned goodies at surreal prices. We were disappointed by the news that they had stopped their factory tours due to the familiar "insurance problems". We as a nation really need to resolve this public liability scandal before it completely chokes our society.
SPC, the fruit company, not only sold us their goods at large discount but also took us on a fascinating tour of their plant.
We drove in the late afternoon to stay overnight in a forest on the edge of Echuca.
Echuca to Grampians