Alice Springs to Darwin
16-28 May, 2001
16/5/2001 Alice Springs to Tennant Creek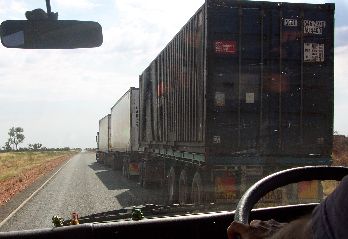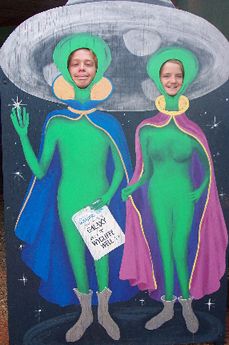 We drove to Tennant Creek & piled onto an excellent tour of the old gold retrieval plant. We are passing many road trains but they don't knock us about like they do caravans.
The tour guide was great. We also got diesel for $1.05, the cheapest between Port Augusta & Darwin. The diesel price has more to do with the level of competition around as much as the remoteness. The Stuart Highway is a classic example. The cheapest prices are at each end with Adelaide beating Darwin. The next cheapest are Alice Springs & Tennant Creek which have independent outlets. There is then a large jump to places like Elliot & Matarranka which have multiple outlets. Those single outlet places like the roadhouses have sky-high prices.
We stumbled on a nice park outside town at the reservoir. It had hot showers. Needless to say we decided to stay the night. Our dinner was interrupted by a knock at the door . A volunteer ranger had arrived to tell us to move on. Luckily we had snaffled a couple of red wines & argued successfully that it was unwise for us to move. She readily agreed & instead stayed for a chat for an hour. It turned out that she is married to an initiated 'full-blood' from the western desert and had spent the last 11 years helping in aboriginal communities around Oodnadatta. Surprise! She had no ideas. Hers was not a pretty tale nor an optimistic outlook. Her conclusion is to give up on the adults & concentrate on the youth. Unfortunately I suspect this has been the unsuccessful attitude for the last 20 years.
| | |
| --- | --- |
| The potato heads (or Devil's marbles) | |
17/5/2001 Tennant Creek to road stop near Renner Springs
We wandered back into town to get Robbie's beer only to find that Thursdays are dry in Tennant Creek. We subsequently had an interesting talk to the guy running the aboriginal community art gallery. Of course he was white but unusually sensitive for this area. He had the job because no aboriginal applied for the job (which is not difficult - but dealing with people and pricing paintings). He had a couple of success stories re aboriginal initiatives in town which were working.
One aboriginal group distributed food parcels to those families in need despite the government payments. It appears that aborigines, being naturally generous, cannot ignore a relative in need even if the need is to buy alcohol or having bought alcohol. Consequently even those who don't drink, still unwillingly support others habits thereby putting their own dependants at risk with large resentment growing. The result is often malnourishment and other poverty issues. Someone's drinking problem affects the others in their community.
Another group (the Congress) again headed by a white has some successful enterprises, like the art gallery.
The banning of takeaway alcohol on Thursdays has had a noticeable effect by reducing drunkenness & violence and again is an aboriginal initiative. (Thurs used to be the main pension day.) Other centres are experimenting - the Alice bans sales of casks (as does Tennant creek), some ban consumption in town ( though I suspect this leads to extra arrests which solves nothing).
After lunch we straggled out to the old Warrego goldfield for a bit of 'dry panning'. We found not one grain of the glittery stuff but had a good time. As usual the wildflowers along the road were superb. I don't think I've mentioned the beautiful flowers proliferating north of the border.
On the way back we were attacked by a good size mulga snake (1.8 metre? - alias king brown). Luckily we were travelling at 40 km at the time, in the truck. He just got off the road in time but apparently felt shamed as he suddenly turned & struck at the tyre as we roared past. He struck well over a metre with his little hood extended. He looked almost cute from inside our steel box a metre above him. We were exceedingly glad we weren't walking/leaping/sprinting/screaming. We returned to the free hot showers at the dam before driving till dusk & settling beside the road near Attack Creek. This was where Stuart was repulsed on his first attempt by hostile aboriginals. "Their arrangements & manner of attack were as well conducted & planned as Europeans could do it".
18/5/2001 To Daly Waters
We tried to get to Lake Woods near Elliott but were repulsed by a rapidly deteriorating red dirt track lined by the most spectacular stands of golden wattles.

We had much greater success at Newcastle Waters. There we found an interesting historical town on the old Queensland to NT stock route - amongst many others, the Duracks passed through here en route from their holdings on Coopers Creek to the Kimberleys. Better still we found hordes of birds - mainly kites & egrets but lots of others - and also shoals of fish trying to spawn upstream past the causeway.

Nice part of the dirt road - previous section was definitely 4WD
We then dropped in at Daly Waters expecting the same. Instead we found the flying doctor on a mercy mission & the most amazing little pub. We stayed at the attached campground ( my cruel kids say 'because it was cheap') which was very primitive but allowed us to eat the local 'barra' & enjoy a country poem & music night at the pub. There is also a tree there proudly bearing Stuart's initial carved 140 years ago.
| | |
| --- | --- |
| | Pub contained lots more than beer including a reference on the menu to "bum nuts on toast" ie eggs on toast |
19/5/2001 To Mataranka
As we crossed the Daly River, the vegetation changed dramatically. We left the 'desert' of the centre and entered the treelands of the top end. The change was quite amazing. Spinifex change the Barkley grasses.
Soon after, we encountered THE SNAKE. Visible far ahead on the road - 2 metres long & 7 cm diameter - he was casually crossing. We slowed then stopped 5 metres short. He decided that our part of the road was his so he came straight for us in our 3 metre high truck. As I reversed he chased us. Eventually having made his point he wandered toward the verge. I, sensing my chance edged the truck towards him. He immediately turned on us again & reared to strike. These snakes are so fast that they can hit 6 times in a second so the fact we didn't see any strike didn't convince us - then he disappeared under the truck. We moved very quickly & were hugely relieved to see him reappear out the back. He was so aggressive we half expected him to remove our wheel nuts or puncture our fuel tanks out of spite. IMAGINE MEETING THIS SNAKE ON FOOT. No doubt he would go miles just to mug you.
Traumatised, we headed to Mataranka for the Never Never festival. This town (or Elsey station) was the setting for the book/film 'We of the Never Never'.
A horse having a bad hair day at the rodeo

We spent the day at the rodeo - what a blast. They were using scrub bulls who were very angry at finding themselves surrounded by carnivores of many shapes, sizes & colours. Having disposed of their riders they then either broke through the steel fence or spent much energy convincing the carnivores that they were about to. We ate sausage sandwiches & dust - the latter mostly when we gasped involuntarily.

These bulls were scary - they were so angry
Bwana was charged by this bull - he was very angry!

At one stage a drunk decided to help the ringers remove the angry bulls from the arena. He fell in front of one of these runaways which slammed into his upturned buttocks using him like a plough. It then threw him 3 metres into the air twice before one of the ringers distracted the bull. The drunk left the arena under the threat of police intervention apparently feeling nothing. He'd feel it tomorrow.

Not long before we left we met an elderly aboriginal, dressed in natty westerns, who appears to be something of a legend round here. Lots of people know Buddy in a nice way. He was one of the great rodeo riders.

We left the locals dancing (till 3.30 apparently) & slipped into the bush on the edge of town for the night.
20/5/2001 Mataranka
First thing, we stepped back into town to watch a Fizzer re-enactment. Fizzer was a guy who for many years managed to deliver the mail over a huge distance within NT; and always on time. Apparently his circuit, based at Katherine, took 6 weeks to complete with his 9 pack horses. Even the wet season failed to slow him. Gwen Cave from Rockhampton (with support husband Maurie) was retracing his journey with 1 pack horse & a truck.
Then we went & watched some huge 'tame' Barramundi being fed in a local park. The feeder would let them latch onto his hand so he could lift the 15kg monsters bodily out of the water for photos. The pond was shared with a large number of purple wayter lilies & many more cane toads. Yes they are in the NT now.
| | |
| --- | --- |
| | |
| Old Elsey Wayside Inn | Magnificent Mataranka Springs |
We drove along part of the Roper River admiring the palm tree fringes before heading off to the Mataranka homestead to watch 'We of the Never Never'.
At the homestead are the famous springs which have been tarted up a fair bit since I last saw them. They are still magnificent - 34 degrees C, crystal clear, white gravel bottom, & surrounded by towering palms. We stayed in the water for 3 hours chatting to the fellow tourists floating about.
That night we joined the locals at the Brian Young show at Elsey Roadside Inn. This guy is something of an institution out here. He has toured Oz with his C & W band for years. We are not C & W fans but the musicians were fantastic & the night was huge. We met Buddy again who this time was acknowledged by Brian Young (as being one of the C & W performers). We also met Joey, an older aboriginal who used to be the head ringer on Elsey station in the forties. It was so refreshing to see Buddy & Joey walk through the crowd. They walk as though their dignity is intact.
| | |
| --- | --- |
| Zoe dancing with Buddy (ex-ringer, bull-rider and C & W singer and self-confessed lair. He enjoys life.) | The local ladies did a fashion show with recycled materials! They don't take themselves too seriously. |
That night back to our bush camp.
21/5/2001 Mataranka again
Hey, we like this place.
Bitter Springs Pool

Back we went to the springs - this time for a 4 hour float. The only way I could prise the family from the pool was to suggest we try Bitter Springs 10 km away which had twice been strongly recommended to me by other travellers. Very different - a chain of pools with the same perfect water.

The first pool is the best but you can float downstream for 2 hundred metres. The trouble is the bottom downstream is black in places & scary for any people with crocodiles on their mind - like Jake. There is nothing like bumping a submerged log amidst crocodile dreams. Plus it had a rotting vegetation smell further downstream. Jake wanted to return to Mataranka - until he ventured under the water with a mask. A new under water world, glowing bright blue and displaying exotic scenes, was explored and neither Jake nor Zoe wanted to leave. We spoke to another couple who decided it was 'too natural' for them to swim.

We stayed that night at the springs car park wondering if the ranger was diligent enough to return after dark to remove us.
22/5/2001 To Pine Creek
A leisurely drive took us to Katherine for a quick stop to get a package from Jake's orthodontist, get details of events coming up in the top end & shop at Coles. We left 4 hours later having achieved none of these but with a full tank of cheaper diesel.
We continued north as we need to make time to return to a big aboriginal get-together south of Katherine on the Queens birthday.
The major attraction at Pine Creek is washing machines as clean clothes are almost a source of wonder by now. The fire brigade has just burnt a fire break 1 km upwind so the smoke from that tonight may help to mask the smell from the van park's septic system.
We have been advised that the barramundi fishing is deteriorating so instead of heading north to Darwin via Litchfield (via the Daley River) we will go straight to Kakadu tomorrow.
23/5/2001 To Gunlom (Waterfall creek) in Kakadu
As we were leaving Pine Creek at 9.00 we met a young aboriginal (27) who wanted a lift to his community nearby. He went to high school at Newcastle then returned to his community. He is on the community council already because of his education. He was drunk & said he has been drinking now and then since his father-in-law had died a few years previously - he couldn't cope with the loss.
We dropped him outside his village then headed for Kakadu.
We decided on venturing into Gunlom despite the 75 km of dirt road as it was in good condition.
What a magical place. The kids swam in the pool at the bottom of the falls then for sunset we climbed to the top. The pools at the top are magnificent with a beautiful swim through a very narrow gorge to a waterfall.
| | |
| --- | --- |
| The main falls of Gunlom - we walked up to the top of them to find the pools above | Looking west from the top of the falls |
Lucky we came here first as the volume of water going through the pools & falls drops quickly from now on. It is at the top end of the South Alligator River.
24/5/2001 Gunlom To Cooinda
Before leaving we again made the strenuous climb to the top to wallow in the pools - as good as yesterday. Actually - even better. This experience we'll always remember.
We drove from the "stone' country, through the woodlands, to the flood plains of the South Alligator Rover. We arrived at Cooinda in time to watch the beautiful sunset over Yellow Waters. Lots of egrets and a Jabiru were decimating the fish trying to hide in the retreating water. The sun refracting through the wings of the mosquitos no doubt enhanced it even more. Unbeknown to us, the place from which we watched the sunset boasts a 5.2 metre crocodile - opinion is divided as to whether we're glad we missed him.
| | |
| --- | --- |
| Yellow Waters - flood plain of the South Alligator River | Sunset at Yellow Waters |
On the way to the nearby campsite we saw 2 dingoes which made Zoe a little apprehensive about midnight toilet trips. We heard them howling during the night.
25/5/2001 To Ubirr rocks via Nourlangie
The humidity has enveloped us like a blanket since arriving at Cooinda. I guess it's not surprising as we are in the midst of one of the world's largest bogs - the run-off after the wet hasn't finished yet. .
We poked our noses in at the rock art & impressive outcrop that is Nourlangie. We are not native art fans yet so the ones that most impressed us here were the newest (read brightest) - those redone by Barramundi Charlie in 1964. Apparently he is one of the many elders who have died in despair in the last 20 years having found not one person worthy to be taught the traditional laws & dreamings - the knowledge died with him.
Ubirr Rock was our destination for the day. Again we explored the galleries and this time watched the sun set from the summit. The summit is all of 10 metres above the floodplain but what a beautiful vista. Bright green reed beds interspersed by lily-filled ponds complement the bird-life. This is all dominated by the ragged Arnhem plateau & breakaways.
| | |
| --- | --- |
| Art at Ubirr | Sunset at same |
26/5/2001 To Jabiru
When we awoke we were briefly amused by 2 french backpackers windmilling their arms frantically and repeating "C'est ridiculous". Our amusement ceased abruptly when we left the van ready for a walk & immediately started windmilling our arms frantically and repeating "These mozzies are ridiculous". Despite this we still wandered through the monsoon forest on the edge of the East Allgator river ( this marks the edge of Arnhem land). We enjoyed spotting lots of fruit bats and birds and also our first 2 'salties' - about a metre long & lying on the river bank.
We joined a 2 hour river cruise run by local aboriginals and with an aboriginal guide. Gave a good commentary on aboriginal life, food & weapons without any controversial items raised. Spotted a few crocs up to 3 metres.
| | |
| --- | --- |
| East alligator Banyon tree | |
We then headed for the swimming pool at Jabiru in record time. What a great way to beat the humidity without being eaten.
Had a nice chat with the pool caretaker who tried working with the local aborigines but found it too depressing. He can't see a way forward for them. His wife is aboriginal from the Coburg peninsular. He paints a poor future for Kakadu - he feels that the burnoff policy is not based on the aboriginal model but on the National Parks methods using the ACT calendar/method - which is way too much. We had already noticed how little bush here appears unburned. He said that the consequent loss of ground cover habitat plus the enormous number of feral cats is the reason for an astonishing disparity in wildlife levels between Kakadu & Arhhem land next door. We were surprised to see at the central ranger station that despite there being management programs for many feral animals there is not one for cats. My Jabiru friend explained this when he advised that part of the Kakadu agreement with the local custodians is that they are allowed to keep cats in their settlements within Kakadu. He has seen examples of old women who have lost their families who have tens of cats in their care - many of whom go feral through lack of feed at home. That would severely limit the effectiveness of any feral cat program.
This night we free camped across the road from the pool in Jabiru. We took the opportunity to download our e-mails. We got a junk mail item that took 30 minutes to download to the PC but then another e-mail took 2 hours before failing so we still don't know who sent it. That was an expensive exercise at $1.30 a minute.. We have now edited our mail - any one of more than 150K will be automatically deleted in future.
27/5/2001 Mines & Monsters
We started the day with a tour of the Ranger uranium mine. It was quite good but more a propaganda exercise by the mine than educational. The guide was a true believer having been born & raised round uranium mines in Oz for the past 25 years. However her knowledge was quite sparse. The open cut mine itself was closed being Sunday and the plant is fully automated so we saw 2 huge holes & many static bins, buildings & tanks. One standout was the open air pile of bright yellow sulphur used to make sulphuric acid. At least one 'lefty' journalist has decried this as being an outside storage area for the yellow-cake. It's funny how primitive the rolling process still is in this day & age. It consists of rolling the ore round inside a very large drum after adding sacrificial steel bars or balls to do the damage - like a huge clothes dryer with attitude.
| | |
| --- | --- |
| Ranger Mine Pit 3 on the western edge of Kakadu | |
We were in such a hurry to return to Cooinda for an organized fishing trip that a goanna crossing the road caused little comment. We got there with ample time, as it turned out, to meet Dean for the big adventure. Unfortunately the boat was too small for all so by consensus dad got to remain behind to update the trip diary, to fend off the mozzies & to save $110.
| | |
| --- | --- |
| Fishing Trip at Yellow Waters - crocs, fishing, and wildlife | Jake's Barra |
4.5 hours later the great hunters returned with a tally of 1 catfish (Zoe), 1 tarpon (Robbie) & 1 barra (Jake). They saw lots of crocs, Zoe flagged many more birds in our bird book & had a generally top time. Dean offered us a feed of fresh barra from the morning catch which we accepted, cooked & ate with alacrity at a bush camp 30 km up the road.
| | |
| --- | --- |
| | Our Barra Dinner - as fresh as you can get! |
28/5/2001 Leaping handbags at Adelaide River
After another uncomfortably humid night (same ever since leaving Gunlom) we rolled on to Adelaide River. En route we paused at Mamukala bird lagoon.The were about 3 birds there. We are too early in the season for the birds to have congregated.
We injured (I fear fatally) our 2nd snake on the road today - our 1st was last night. I hope this trend doesn't continue.
The crocodiles were definitely congregated & dancing at Adelaide River. This was an awesome display. The crocs performed like extremely ugly & threatening synchronised swimmers with terrible eczma. As we approached each they pirouetted gracefully a few times before hefting up to half of their body length from the water to snatch the bait. The larger ones (like the biggest at 5.6 metres) only lifted out 2 metres. What a daunting sight that is from a distance of 2 metres from a vantage point below the bait.
| | |
| --- | --- |
| Kakadu Billabong Scene | Leaping Handbag Cruise |
At the booking office there was the skull of a 3 metre croc found bitten in half by one of its larger cousins (a love bite from a 6 metre croc leaves a lasting impression).
We then stopped at 'Window on the Wetlands' and Fogg dam. The former was interesting. Fogg dam would have been disappointing except for our sighting a small water python on the board walk plus a couple of large goannas, a jabiru, wallabies & a few birds. Again the birds lack profusion.
On to Darwin. Would you believe it. Not only did we stay in a van park (1st in 6 nights) but we also got a powered site with an ensuite. Don't worry the Elliots aren't going soft. It's all the van park had (& for $22). We used our air-conditioner for the first time. COOL!