Arapiles to Kangaroo Island
2-7 April, 2001
2/4/2001 (Sun) via Arapiles to Naracoorte
Before we left Zumsteins Jake & Zoe found a mob of roos outside the van. They spent some time stalking them until one allowed them a brief carress in response to Nutri-grain bribery.
We headed off in search of Mt Arapiles, having been inspired by a painting of it at the Natinal Art Gallery. We were not let down. As the steep rocky cliffs are some of the world's best for the rock climbing sport, we got to see many climbers trying out their skills.
Next we drove to Naracoorte - to see the caves that house many mego-fauna fossils. We missed the fossil cave tour so did the bat cave tour and stayed over for the fossil cave tour, the next morning.
| | |
| --- | --- |
| Wonabi Snake around another mega-fauna creature | Sunrise in the fossil cave |
| | |
| --- | --- |
| The marsupial lion skeleton behind us | |
Jake and Zoe loved fossicking for shell and coral fossils along the pathways.
3/4/2001 (Tues) Naracoorte to Strathalbyn
We drove to the Coorong area and crossed the Murray via ferry. Then we drove around Lake Alexandrina to Strathalbyn, finding natural salt pans en route. Strathalbyn is a geographical anomoly - a Scottish town in the wilds of SA. It is a cluster of grand euro-buildings set by a perfectly manicured complete with gurgling byrne and a swan loch.
We camped in the park for the night.
| | |
| --- | --- |
| | The Murray ferry approaches |
| | |
| --- | --- |
| Standing on the salt lake | Strathalbyn had quaint old buildings and a lovely park |
4/4/2001 (Tues) To Kangaroo Island (Penneshaw)
We were doing the casual tourist thing in Goolwa on Murray when we found out that we had only 75 minutes to get to Cape Jarvis to catch the day's ferry to KI. We clattered off and made it with less than 5 minutes grace.
Cape Jarvis made headlines 5 months later as the site of a moveable feast for great whites. A man made the politically-correct corrupt their Chardonnay with tears of rage when we climbed aboard the main course - a dead whale. This was a great photo opportunity of the cerebrally challenged on both sides of the political divide.
We caught the ferry across from the mainland to Penneshaw - where we were greeted by a lovely white beach. We went on the penguin tour that night and enjoyed the little critters heaps.
We slept amongst them that night and discovered that their noisy love-making lasts all night.
| | |
| --- | --- |
| | Try finding the penguins! |
5/4/2001 (Thurs) Sea Lions and Koalas
This was a very exciting day. We went on a tour at Seal Bay amongst the sun-baking sea lions . This was great. Then we did it again immediately - this time we walked to the end of the beach where there was more activity - and some pups came closer. Sea lions were resting, feeding pups, chest beating (the boys!) and playing in the surf. This was a most wonderful experience. We left in a state of euphoria.
| | |
| --- | --- |
| Beach at Penneshaw | This one checked out Zoe |
| | |
| --- | --- |
| Family enjoying it all | Jake took this photo |
| | |
| --- | --- |
| They are so cute | Vivonne Bay - we watched cray fisherman bring in their haul |
Next on the agenda was Little Sahara - some amazing sand dunes quite a way from the coast. Mountains of sand in the midst of bushland were a good excuse for a play.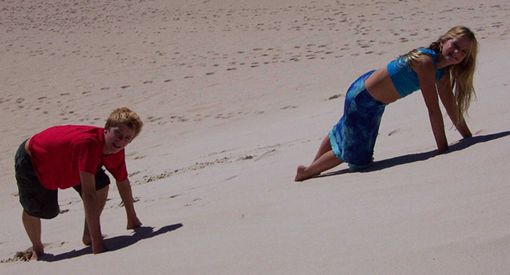 Next on the agenda was the Kelly Hill Caves which demonstrate the percolating action of water.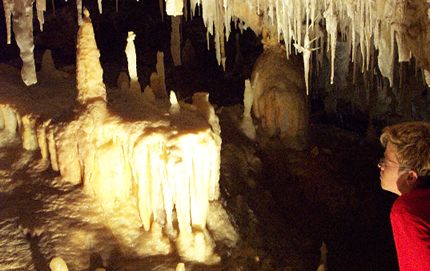 We thought we'd settle down before dark - as there is a lot of road kill on KI - heaps of animals out round dusk. We stayed at a caravan park which boasted heaps of wildlife.
Immediately behind our van was a small circular patch of sweet new grass enclosed by a wire fence. By sunset it was full of wallaroos. We found out the fence was supposed to keep them out - away from the regenerating grass. Made a good cage instead.
We saw here the effect of koala overgrazing. Whole trees are stripped bare so often that eventually the tree curls up its twigs & dies. Koala overstocking is a major problem here as much of their habitat has been cleared. We novices think this is a great place to start restocking those areas on the mainland which are endangered
| | |
| --- | --- |
| | |
| | |
| Scenes from an unusual van park | |
6/4/2001 (Fri) Sea Lions and Koalas
Today we were entertained by the NZ fur seals at the south west of the island, at Admirals Arch.
They are fabulous acrobats and smell like a tannery. Sharks must be able to sense them oceans away - I can. They secrete oil as part of their insulation system and by the time it reaches their extremities it is well rancid.
| | |
| --- | --- |
| The arch and viewing platforms caves us a birds eye view of the active seals | The seals gave a great display of play and chest beating |
Nearby are the Remarkable Rocks. These are so weird they demand excessive photography.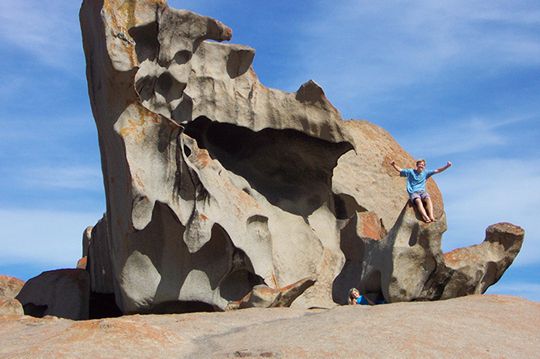 We moved on to the bay near by - at the end of West Cost road - Hansom Bay.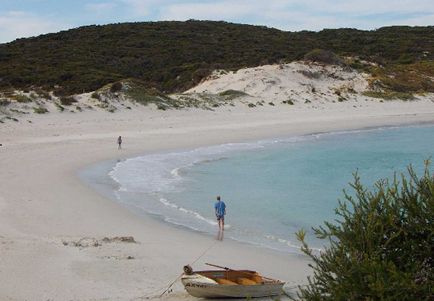 We stayed here overnight - after the a horrible road in. We discovered during that night that once again we were camped in a penguin rookery. Met Rob and Aya - 2 young people who fished and camped overnight.
7/4/2001 (Sat) Mud brick homes and pelicans
Our last day was spent mainly at Hansom Bay doing school work - and then a visit to Rob and Aya's. Their mud brick houses had a really nice feel set amongst their home-made golf course - wildlife everywhere.
After lunch we headed for the daily pelican feeding at American Bay.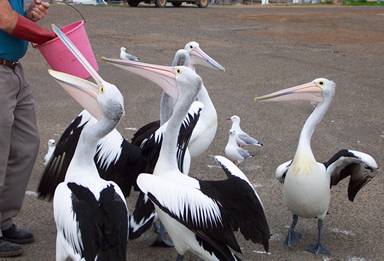 Before boarding the late afternoon ferry we stopped at one of the many beautiful beaches on the south coast. We slept road-side 10 minutes from the ferry terminal. No traffic uses this road except for 30 minutes either side of the 2 daily ferry crossings.
Goolwa2PortAugusta