Darwin to Katherine
29 May - 13 June, 2001
29/5/2001 Darwin
Loved the air-con overnight. We launched into the humidity at lunch. Darwin was mainly devoted to schoolwork catch-up, swimming & administrative tasks like orthodontist, car service, provision shopping.
We grabbed a late snack of chips at Stokes Hill wharf. Beautiful spot. We liked it so much that we returned for a barra dinner there that night. After dark they put a spot light on the ocean & large moonfish & barramundi come in to feed on the scraps thrown by the diners. Sitting outside under the stars, 6 metres above the ocean, good/cheap food, 25 degrees, watching the fish - one of the great dining places in Oz.
We free camped that night just of the wharf as we had to put the car in for a service nearby, early next day.
| | |
| --- | --- |
| Having dinner at Stokes Hill Wharf - watching Moon fish and Barra from the wharf | Feeding milk fish, trout and watching the rays |
30/5/2001 Darwin
While waiting for the car to be serviced, we walked central Darwin. It doesn't take long. The walk along the esplanade was very pretty. Robbie & the kids had a huge time at the fish feeding while I walked back to collect the car.
Got some bad news today from Videofone - our mobile phone provider. They tell us now that we can't use our 200 free off-peak minutes per month to do our e-mail & web-site. This is despite contrary assurances by 2 of their agents (including the one we signed up through) & their own telephone sales line. Consequently, instead of our monthly bill being about $22, it is more like $250. Since this facility is the only reason we signed up for the phone, we feel a little miffed. They are yet to reply to our polite e-mail after a week so next we will cancel their direct debit & contact consumer affairs. Interestingly, Robbie went to the Videofone agent in Darwin pretending to want a plan with the same free facility & she was also assured that their plan was perfect for her.
That evening we watched a magnificent sunset over the sea from the yacht club & had a long chat with a cruising catamariner about the advantages of living aboard such a craft after retirement (food for thought). Finally the lure of air-con proved too much. We returned to the van park after an evening swim & signed up for 3 days
| | |
| --- | --- |
| Famous Darwin Sun Sets (with stunning model) | |
31/5/2001 Darwin
We luxuriated all day in the air-con (lots of school work) at the van park. The people next to us work at Port Headland. The wages are huge ($1,700 per week after tax for unskilled workers) but cost of living is 30% higher than the city. Unfortunately it is not a happy place. Crime is high & the detention centre depresses many locals.
The Mindil markets lured us out late afternoon.This is another outstanding Darwin venue - masses of people, food, music & things to buy - all beside the beach, under palms with the setting sun again providing inspiration to all. ..
| | |
| --- | --- |
| Enjoying Mindil Markets at Sun Set | Heaps of fun with Karts |
1/6/2001 Darwin
We exited the air-con a little earlier today to 'hit the track'. - the go-cart track. This was 1st for all so some were a little apprehensive. After 20 minutes though we were all expert daredevils. Braking was forbidden so Zoe spun out 4 times trying to lap mum while Jake did the same once.
We stopped at the aviation museum afterwards for a change of pace.
We returned for an early dinner at beautiful Stokes Hill wharf, this time at sunset. Beautiful again, waving to the other tourists (rich) sailing past on their sunset cruises. We saw something VERY large in the water just after dark - probably a saltwater croc cruising past.
Finally we trooped off to the casino lawn to dance under the stars to the old band Mental As Anything. They gave us a real treat when they played at Symphony On the Sand at Harbord a couple of years ago. Again an excellent time surrounded by thousands of very relaxed (often inebriated) locals & tourists. This is definite life education for the kids - watching how the crowd behaves - the good and the bad and what alcohol does.
2/6/2001 Darwin to Berry Springs
After stocking up at Coles we drove south for an hour to an outstanding place - Berry Springs.
Mataranka eat your heart out. This place is even better. Imagine (especially if you are reading this in cold Sydney) warm, placid, crystal water holes joined by channels & surrounded by pandanus palms & parkland. There is even a waterfall to hide under or slide over. We were going to the wildlife park but it didn't stand a chance.
At sunset we moved down the road to the monthly rodeo. Not surprisingly we recognised many of contestants from Mataranka rodeo. Here though the bulls were a lot better behaved & most left the ring when required. One however was contrary. He caused some great entertainment as various methods were tried to convince him to leave. Eventually one guy ran straight at him, grabbed his horns & somersaulted over his head. This confused the huge animal for long enough for another to ran in from behind & remove the kicker (the irritant strap tied around his belly). He immediately calmed down & left the ring.
This time we stayed up for the dance eventually leaving about midnight to camp on-site.
| | |
| --- | --- |
| Berry Springs | Rodeo at Litchfield |
3/6/2001 Berry Springs
Went first to the Wildlife Park. It was outstanding. Similar in many ways to the one at the Alice but better. All the demonstrations were done better than were those in Alice - much more content.
| | |
| --- | --- |
| Birds of a feather at the Wildlife Park | |
We moved back to Berry Springs in the late afternoon. Again we saw many birds but this time also saw a water monitor & yellow tree snake. After the ranger closed the park we camped immediately outside the park gates.
4/6/2001 Litchfield
We drove the dirt road into the park. It was in excellent condition & we drove it faster than we did the bitumen road on the way out of the park.
En route we tried driving into an abandoned tin mine but the rough track drove us back - not before bending the back step, which hangs precariously under the door of the van.
Wangi Falls, the next stop, were very pretty but still closed for swimming. So many people have drowned here that eventually the coroner advised that they stay closed until the water level drops to a fairly low level. As an alternative we did the circular walk to the top hoping it may be like Gunlom in Kakadu. It wasn't. In fact I would go so far as to suggest that the path was a waste of ranger effort.
| | |
| --- | --- |
| Wangi Falls | Zoe - weightless |
Pushing on for a swim we paused at the beautiful Tolmer Falls but no swimming.
We finally hit the water at Buley Rockhole. Nice spot but the main attraction for our kids was a tree branch about 8 metres above the water with a fairly hairy ascent and a much scarier descent. Here Jake then Zoe learnt the joy of posing in front of an adoring crowd. As various coaches disgorged their contents our kids leapt for their entertainment. The grandmothers amongst them of course held their collective breaths until the kids' heads reappeared after each death-defying leap. I was proud as they confronted and beat their initial terror.
We were amazed that night when we found that it cost $15 to stay in the campground. The only amenities were bush toilets (1 male/1 female) & bar-b-que pits (no wood though & it is illegal to collect it). Nowhere else has anyone dared to charge for so little.
Needless to say, we bush-camped that night.
5/6/2001 Litchfield
We went just down the road to the beautiful Florence Falls. Lovely twin waterfalls with a stunning plunge pool at the base. The taller of the falls allows the daring to get in behind the veil so of course all the Elliots ended up there - even mum. Jake scared his mum to death by leaping into the water from a ledge about 10 metres up. Dad showed him the ledge but didn't jump.
That night we met a Dutch couple on their 1st day in OZ in a rented 4-wheel drive. In 3 weeks they intended going from Darwin via Litchfield & Kakadu to the west Kimberleys then on to the Alice via the Tanami. We went over a more realistic itinerary with them. This involved missing Kakadu & the west Kimberleys and adding Uluru, Olgas & Kings Canyon but still going via the east Kimberleys & Tanami. When the rangers started burning the bush beside the camp ground (they burn all the time in the top end) we started to move out. The dutchies asked if they could come too for company on their 1st night in the bush. We returned to our stop of the previous night. As luck would have it, Jake turned a light on just as a ranger drove past looking for fires caused by his burnoff. He 'suggested' nicely that we move to a designated/overpriced campsite, which we did & coughed all night in his smoke.
| | |
| --- | --- |
| Jake stressing his parents | Florence Falls |
| | |
| --- | --- |
| Tolmer Falls | Tag around the Termite Mounds |
6/6/2001 To Pine Creek
Spent the morning leaping from trees into Buley rockhole or watching, depending on ones energy and or courage. We also visited Adelaide River - cemetery for WWII war victims for those who died in our local region and in Darwin.
Finally left late afternoon to drive to stay again at the Lazy Lizard van park in Pine Creek.
Robbie went on strike over the heat in the kitchen so we increased our collective cholesterol levels with a huge feed of fish & chips from the bistro.
I expected the humidity to plunge on arrival but was disappointed. Apparently when we were here 2 weeks ago they were having a cold spell.
7/6/2001 Edith Falls
Edith Falls proved a treat. The camp ground was nestled amongst trees, lush grassy areas and had great facilities. The plunge pool was 100M away and we enjoyed a swim there before heading off for the top pool climb. It was hot work but what a superb reward
At the top pools we enjoyed more swimming - with a good current assisting us through narrow channels.
Apart from the main falls at the top pool there was another very fine fall which fell into a circular hole of 2 metre diameter. Super Jake jumped in but couldn't touch bottom. We later learnt it is 10 metres deep. He also couldn't get out & the vertical sides were smooth. Luckily I was right there & able to hoist him out before things got very ugly
That night we enjoyed an informative slide show about the area. It was narrated by an aboriginal girl from the centre who was very candid when answering questions. It is her opinion that the high level of burn-off is done more to protect tourists/property from a surprise roasting than for the good of the land. For example there is strong evidence that 2 bird species are endangered due to the burning timetable.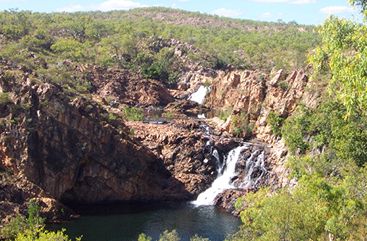 Edith Falls Top Pools
| | |
| --- | --- |
| Edith Falls camp ground | Edit Falls top pool |
8/6/2001 To Barunga Festival
Spent much of the morning talking to a local aboriginal ranger about his life & opinions.
After loosing Robbie & Zoe in Katherine to shop we followed newly acquired official advise to go quickly to Barunga for the opening ceremony. Surprise! It starts tomorrow. Wasn't a total waste as we got to join a kids disco at the community hall. The universal all popular aboriginal song in the top end is the 60's surf song 'Wipeout'. Not what we would have thought, but it still contains one of the great drum solos. It is this which drives aboriginal kids into a quivering frenzy, quickly followed by acute embarrassment. This oscillation can occur 20 times during the 2 minute song.
Our first night was not very restful. Everyone goes walking - and they seem to scream. At first we were concerned that it was fighting but - they just scream/shout. There was one more seriously domestic. We could hear every word - in another language - punctuated by English words - swearing. I'm glad the kids were asleep - they would never have heard this stuff.
9/6/2001 Barunga Festival - Day 1
Last night we were the only whites amongst a thousand faces (well we did see a few couples arrive and leave inconspicuously). Today with the official start of the Barunga Sports & Cultural Festival the odds changed to about 20:5,000. We spent the day watching incredibly athletic kids playing aussie rules & basketball. I love their attitude to sport here - heaps of competitiveness but no aggression. This applies equally to the competition games & the multitude of informal games in progress everywhere, constantly. I assume this is normal & Alice Springs was an aberration. I wish white kids could emulate them (in skills as well).
Aboriginal communities have large numbers of kids (much higher birth rate than whites) who play sport incessantly. They are not segregated into ages so the tinies emulate the oldest kids from the time they can walk - great training program.
We found the aboriginals did not want to talk with us. We often said hello and people looked away. A few younger ones said hello to the kids and the kids joined us to play computer games on the laptop.
The official opening in the afternoon featured Bob Hawk on the hustings for the ALP (must be an election year). He also spoke of the Barunga treaty, drawn up in 1988 but not yet passed by Parliament.
| | |
| --- | --- |
| Cockatoo Dancing for the Opening Ceremony | Evening Concert - kids mainly played on the basketball court |
We only saw one bit of agro in the evening. The police were quick to move in and locals were quick to say it was OK and smooth things over. Hoowever, shortly after, the man grabbed a lid from some sound gear box and another local simply retrieved it. THen there was a tush with this guy and another with a third in th emiddle calming them both down. So now we knew it was about two people having a disagreement. The humbug man marched in and out of the basketball crowd, then over to one of the stalls, taking 2 sauce bottles. (No glass bottle are allowed at the festival.) He then moved back onto the court where many kids were playing, moved back and forth amoungst them, some clearing out of the way. He threw down one bottle harshly, smashing it on the ement, then moved across to the other side and did the same. Then he moved passed people (then passed Zoe), heading up towards the people near the stalls. Just then a man from Norforce (army) tackled him and another gave support - to render the man out of action. They called for police while holdoing on the ground. (The humbug man was a huge bloke - and looked very fit.) When the police arrived, they Norforce blokes told a brief vesion of what had happened, then we saw them checking pulse around the man's neck - in a more concerned way. The humbug man was unconscious. After a while they carried the man away.... hopefully he was OK.
We witnessed a major domestic (which went on for hours outside our van with very colourful language - the only English we recognised amoungst the local language was swear words.

The Traditional Dance Competition - one group of ladies entered - which we are thankful for
We parked near outside the school for the night after watching a series of very ordinary rock bands. It proved to be one of the many places where young people practice basketball, shouting & whistling for most of the night. In fact they stop when the roosters start to crow.
10/6/2001 Barunga Festival - Day 2
Last night's camp spot proved to be a place where young people practice basketball, shouting & whistling for most of the night. In fact they stop when the roosters start to crow.
Through surprisingly alert eyes we watched more fantastic sport plus a spear throwing comp. These guys were throwing spears 40 metres into a strong headwind and rarely missing a wallaby-size target by more than 2 metres.
Norforce (the army folk) challenged everyone to a tug of war. The only community to reply to the challenge was Barunga. While waiting (as Barunga didn't show up) they asked the kids to get on the other side of the rope.
The only cultural component of the festival turned out to be a flop. One group only entered the traditional dance - it reminded us of the dancing in Vanuatu which enjoyed us enormously then. It was followed by a fashion parade. This turned out to be kids parading in hip-hop clothes which is exactly what they normally wear. The spectators cheered wildly however whenever one of their friends appeared on the catwalk.
| | |
| --- | --- |
| The Didgeridoo Competition | |
We got a copy of the Barunga treaty (together with some other excellent literature from ATSIC) and it appeared very reasonable. There were 2 difficult provisions though - compensation for land taken & application of aboriginal law to aboriginals. The second seems very open-ended so I managed to find a guy to discuss it with. Although he was western, educated & manages the community cattle station he hadn't thought through the problems involved. He was one of the stolen generation and made the comment that he and many others are glad they were 'stolen'.
That night while dance competitions were being held, Robbie & Steve snuck off to watch State of Origin 2 on a TV in the community radio station office. Great game. We met the kids back at the van & tried a different place on the edge of town. We almost drove over 4 aboriginals sitting in the dark. Later they kept as awake/interested with some of their eerie chanting then with a heated argument at about midnight.
11/6/2001 Barunga Festival - day 3
Our last day was spent doing some school work and watching the finals and closing thank IOUs. It was sad to leave - and we began to reflect what we gained from it - how it affected us. We picked up a couple of aboriginal hitchhikers and gave them a lift back into Katherine - and this was an event of its own with what was discussed.
12/6/2001 Katherine Gorge / Nitmiluk
We don't have photos of Katherine Gorge, as we took the manual camera. However, this is the BEST!!!
We hired canoes and paddled to the top of the third gorge. This place is awesome and we were continually amazed that we could swim anywhere in it - in beautiful, just cool, water, with tall, beautiful cliffs surrounding us. We could paddle into caves and under dripping ledges - with the sound of bats squeaking above us in small holes in the roof. There were also many sandy beaches to stop at and we just thought this was an A1 experience which we'll always remember.
We free camped on the hottest night!!! It was horrible - and the truck engine just seemed to make things worse. Zoe came up with the brilliant idea of using ice in towelettes to cool us down.
13/6/2001 Katherine
We arrived in town and tried to sort out the Vodafone stuff via phone, and buy a fan for the van. The ANZ bank can't stop the auto debit of our account to Vodafone as it needs Vodafone's approval. Can you believe that! It's our account and our money. Obviously Vodafone pays the bank more for its services than we do. Trying to do business with banks and businesses today when it involves automatic transfer and talking to a person is almost impossible. We HATE what has happened with bank deregulation. It's not WHICH BANK? but rather WHAT SERVICE? in a climate of record profits.
In the afternoon, we visited the hot spring pools in Katherine. These are not well known and much nicer than we anticipated. They were very enjoyable and we were joined by other touros and 4 aboriginal kiddies. We discussed, fuel prices, what lay ahead in WA.... and were interrupted by leaping kiddies off the small bridge. Jake and Zoe joined in. One of the kids said they saw us at the festival which started some interesting discussion with the kids. We talked about the big mumma who almost won the adults' 'Wipeout' and how Sean loved playing football. Their team won the festival comp. Sean also won the 'Wipeout' comp - we were talking to a celebrity! I mentioned we were most impressed with the spear throwing - and they told us they fish with spears and help with the fish nets. Also they have tried hunting for kangaroo and goanna. They live in a community outside Katherine. We enhoyed the talk - and then they simply exited the water and left, without any goodbye (unitl we said goodbye). We've finally learned that aboriginal protocol is different and the simple hello and goodbye is not the norm.
Katherine2HallsCk