Echuca to the Grampians
24 March-1 April, 2001
24/3/2001 (Sat) Echuca - Old Murray River Port
Echuca was fantastic. This was a great step back in time to the days of the old Murray River port.
We enjoyed a cruise on an old paddle steamer. Echuca has the largest number of working paddle steamers in the world.
| | |
| --- | --- |
| | |
| The venerable Emmy Lou | Saw Mill with artisan |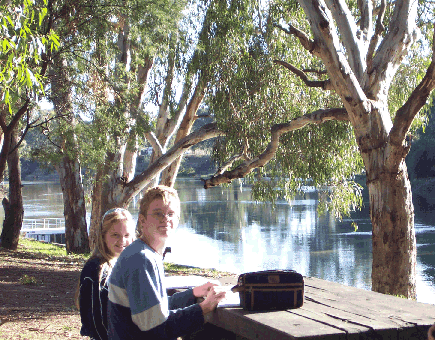 Art Class by the Murray - under the red river gums
We gathered quite a bit of literature and history here - as the Murray was rather crucial to the shipping and travels needs of yester year.
We slept again in a forest on the edge of town.
25/3/2001 (Sun) Echuca to Castlemaine via Bendigo
Bendigo had a Walk from Want fair, grand old buildings and beautiful parklands. However, it did not tickle our fancy (esp. after Echuca), so we walked a little around the main drag and bought some fossils at the fair.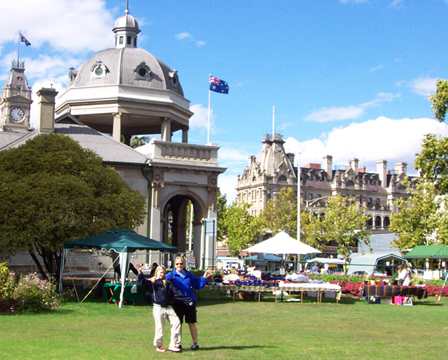 Bendigo - fair, gardens, Shamrock in background, ex Town Hall
By late afternoon we headed off to Castlemaine. The drives are lovely.
We stayed at a cute caravan park in Castlemaine - indulging in hot showers and washing. It was next to the Botanic Gardens. We thought we'd eat in town, so drove a short distance in, to find there was a festival on. We checked out the streets - there were heaps of locals using the town park for family picnics. We bought hot chips to supplement our dinner ($1.80's worth was about a Sydney $5 worth). Grande! We also visited their fine art exhibition / competition.
26 & 27/3/2001 Ballarat
Ballarat is a fantastic touro spot. It's well organised and very friendly. They are proud of their history and the city also enjoys a healthy modern economy and lifestyle. We visited the cemetery, the gardens (with busts of prime ministers), drove the victory road / under the WW1 commemorative arch, shopped and organised for our big day/s at Sovereign Hill.
Sovereign Hill is a bit like Old Sydney Town - but better. Street plays, working industries of yester year and and reconstructed mining town and diggings of the gold rush times. Number 1 priority was the gold panning for the kids.
| | |
| --- | --- |
| At the Diggings | |
Statues in the Park - Will Zoe be Prime Minister One Day?
28/3/2001 (Wed) Geelong via Hepburn Spas
Hepburn spas have mineral water springs. This one was carbonated - but not very nice - though we met a local septuagenarian who has drunk it daily for 50 years & loves it.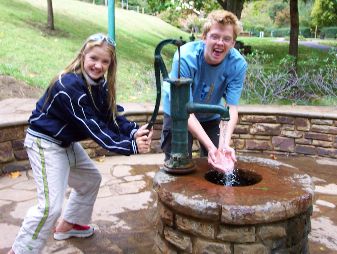 There is a health spa here where people come to 'take the waters'. It has a European feel enhanced by the various accents echoing through the valley.
The drive down to Geelong was uneventful - and we welcomed the warmer climate. We had hit the gold areas during a cold snap - pitying the mines who had lived in tents. The Ford museum was quite interesting.
We had a swim in an indoor heated pool that afternoon - the cold snap is still dogging us. We stayed overnight at an oval nearby
29/3/2001 (Thurs) Great Ocean Road to Ottway NP
The Wool Museum in Geelong proved most educational - for big and small kids. It covered everything from sheering, sheep history, hands on wool samples, manufacturing. The old carpet weaving machine demo was cool.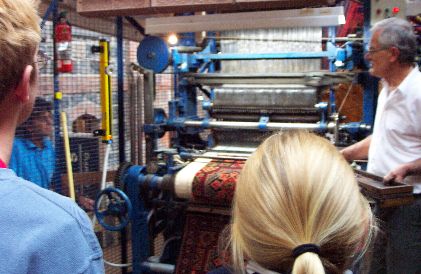 Soon after we ventured south, passing Torquay and Bells Beach. We had lunch there and grooved away to the old surf classics - trying to bridge the generation gap with the kids. I'm sure they are already young hippies. The so-called factory outlets for the biggest surf brand names were a let down. Real surfies of yester year wouldn't have worn that stuff! It's so commercial and expensive.
Off on the Great Ocean Road... we enjoyed the first day - a bit winding - hard for study.... and settled for the evening at the Ottway National Park - enjoying the rainforest walks, some glow worms and grand trees.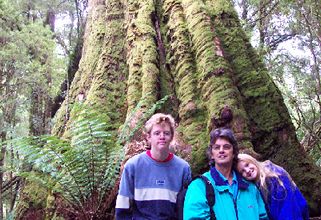 30/3/2001 (Fri) Great Ocean Road to Port Fairy
This was a beautiful day. We left the winding roads of the forests to see by early morning light, the great formations of the Apostles.
The walks along the headland are terrific - and we saw a bandicoot, rufous bristlebirds and lizards. The blow hole was heaps inland...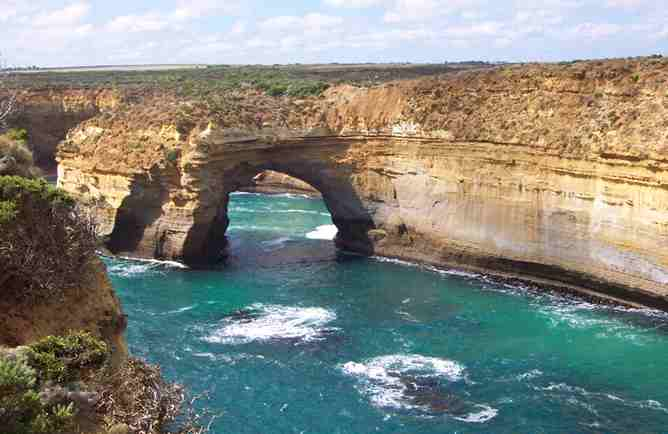 We arrived late at Port Fairy but in time to cross the causeway to the island to watch the return of thousands of mutton birds from their days foraging to their waiting chicks. None came. We compensated by gorging on large quantities of the best chips from the local fish & chip shop.
31/3/2001 (Sat) Grampians via Mt Eccles
At our Port Fairy caravan a lady recommended Mt Eccles National Park - great old volcanic site. Well, our agenda for the day changed... and our detour to this park was well worth it. Not only did we walk the crater / fissure, we got to go inside a lava tube - an old canal that used to have molten lava flowing through it. This was cool.
Then hawke-eyed Zoe spied some koalas in the trees, then an echidna. We walked down to the echidna until we could touch it, and waited patiently for it to move. Took photos and great video. The echidna is like a little tank - barreling along in the grass. It was such a buzz - in the wild.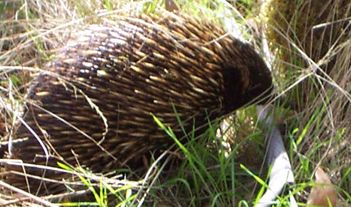 That night we stayed in the Grampians National Park - enjoying our first fire bar-b-que, some company from the USA and a visiting possum who enjoyed Zoe's carresses.
1/4/2001 (Sun) Grampians
This was a serious walking day - with some great views. This a place for dedicated bush-walkers. The scenery is not spectacular but the package (including wild-life) is good.
We eventually stopped at Zumsteins in the northern Grampians.

| | |
| --- | --- |
| View from Mt William summit - long walk, some view | The Grand Canyon |
Arapiles2KI