Goolwa to Port Augusta
8-15 April, 2001
8/4/2001 (Sun) Goolwa, McLarenvale
Our first morning call was back at Goolwa where Jake and Zoe did the educational tour - learning about the Murray system and the Port of Goolwa. We then headed off for the jet boat races - which we couldn't find.... (the touro info was crook and the contact number was wrong...) so went over the range to pick strawberries from a farm - which wasn't allowing people to pick them... so we bought a couple of extra large punnets, and container of thick cream and drown our sorows in strawberries and cream - yum.
Next was McLarenvale. We were a little intimidated by how you do ths stuff. At the info centre we ran into an old friend of Steve's, Peter Chapman. They natted for ages, swapped addresses and then we headed off for the afternoon. First stop was Hardies which provided us with average wine in a gorgeous setting. Next to another couple of cellar doors. One in particular had the best outlook over the vineyards, and provided lunch. This would be a great afternoon - wine and great dining. It was a little reminiscent of the hills of Tuscany in thelater afternoon sun.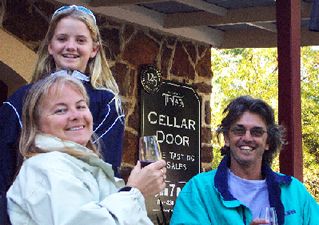 We bought a couple of bottles of cheaper wine and found a phone to see if we could visit Gail in Adelaide. Soon we were heading off the Adelaide - noting how close the loverly McLarenvale area was to the city. Adelaide was pretty and easy enough to navigate. It was only an hour before we saw Gail. The kids were thrilled because they really didn't know her before.
9/4/2001 (Mon) Adelaide
This was a catch-up day. Kids did some school work and I got the internet stuff up to date. Gail returned home to us cooking a curry. It was a night of chatter and family catching up.
10/4/2001 (Tues) Adelaide
We visited the Migration Museum in Adelaide which proved very inetresting and rather enlightening about who came to South Australia and when. The kids are even more unimpressed with the landed gentry at the time. We also had a quick walk around the city centre, including Rundle Mall, and then visited the Central Markets which were colourful and fresh.
| | |
| --- | --- |
| | We enjoyed Gail's hospitality |
11/4/2001 (Wed) Adelaide
After a sleep in, we headed off to the Adelaide Hills with Gail. The Mt Lofty gardens were beautiful to wander and talk! and the most memorable town was Hahndorf. There we spent a lot of time in a mineral shop - looking at their wares - esp. some great fossils and minerals specimens.
12/4/2001 (Thurs) Adelaide to Tanunda
It was a sad farewell to Gail - we enjoyed our stay and catchup. Now Gail's ears could relax - as Jake and Zoe spent a lot of time on the piano.
Our first stop on our drive north was to Para Hills - to see the house where I lived for a couple of years when young. Things have changed in the last 35 years.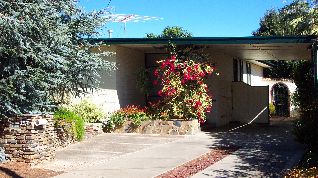 After lunch we headed to the Barossa. We stayed in Tanunda for the night, after collecting the info on what was open on Good Friday.
13/4/2001 (Fri) Tanunda
The Pentecostal church in the next village was lovely and freindly. Verity was a lady who befriended me and wants to keep contact.
Our first wine cellar to visit was Hamilton. The red was terrific, though a little expensive. We then visited Wolf Blass and Penfolds. These were not as good. Penfolds offered some educational info that we made the most of - which meant we did not have to return to the paid sessions at the Tanunda info centre the next day. So, back to Hamilton to buy our preferred red.
We could not leave without a visit to Chateau Tanunda. Not only is their main building a fantastic heritage building, the bar tender was rather demonstrative and delighted in enriching those challenged in their knowledge of wines. He lined them up and organised our sampling. This was heaps of fun and we ended up buying a desert wine which we normally do not like. As it was late, we headed back to the park in Tanunda for our stop over.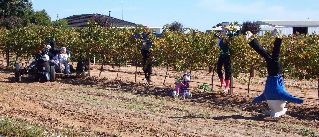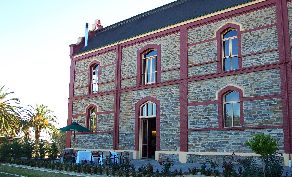 14/4/2001 (Sat) Tanunda to Burra to Spalding
We couldn't leave the Barossa without visiting the Chateau Yalumba. Here we did the tour which was terrific - as we got to see inside and touch some of the hundreds of barrels. It was cool. Even the chateau was interesting. The wine there was nice and they catered for mass tourists - and the cheaper end of wine. Those with more expensive tastes were also catered for. I bought some $5 wine which was VERY easy drinking.
| | |
| --- | --- |
| Zoe had to sample the Rasberry cordial | Chateua Yalumba Tour |
We left the Barossa on a happy note - feeling like we had done it well, enjoyed what it had to offer and noticed the pace picking up for the festival starting the next day.
The afternoon drive ended up in Burra - an old copper mining town at the end of last century. It's a heritage town and we went on the drive yourself tour - which was quite informative. The highlight, however, was finding pieces of green and blue mineral at the old copper mine. It was obviously copper based - probably azurite and cryosite(???). (We drove to Spalding for our sleep over.)
15/4/2001 (Sun) Spalding to Port Germein to Outside Port Augusta
The morning drive took us to Port Pirie - and unfortunately no boats were in. The port is interesting - we'd hit the dry country.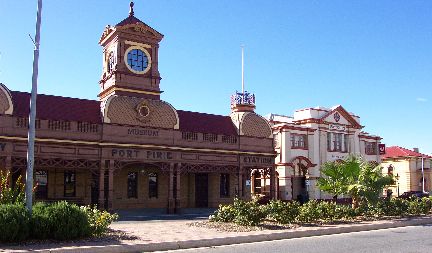 Our next stop was Port Germain - which is tiny - with maybe only 100 people. Its history revolves around there 1.5Km jetty. In the C19 it was 1.6 Km long and catered for the farming area - loading bagged wheat onto steel clippers. It was alos used for loading copper from Burra in its time. The railway changed the transport system and the town died. However, it does provide the town's focal point, and like all tourists and locals, we fished off the jetty. We also had lunch at the town centre and nearly all the guests were over 70. Our visit and fish at the jetty meant we walked 6km that day. We drove a little more - making some progress on our Finders trip the next day.
| | |
| --- | --- |
| Fishing at Port Germein | |