Halls Creek to Derby
3rd - 21st July, 2001
3-6/7/2001 Mary Pools
En route to Mary Pools we passed the group of horses being taken back from the rodeo to Koongie Park. This presented a great photo opportunity: stockman escorting horses across the Tanami Rd - the road that is the measure of a 'real 4WD adventurer'. (We don't measure up). At our next camping spot we were entertained by many disastrous trips across that 900 KM of corrugations! Accidents ranged from caravans being launched off their springs/being pushed through the floor, to losing doors.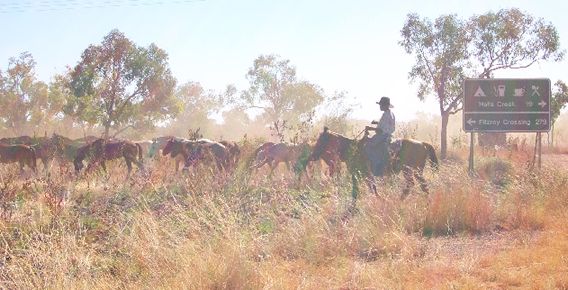 Stockman from Koongie Park escorting horses back from the rodeo - across the Tanami desert road
Mary Pools is a great spot. Our next appointment was Derby for the Boab festival (depending on the program) so we hung here happily for a while.
This site is a large free camping area (with drop dunny) on the banks of a large pool on the Mary River (a tributary of the Fitzroy). On any night there were between 50 and 115 vans stopped there. Conversation was plentiful & aside from the view there was little to do. Consequently the kids caught up on school work much to their chagrin. That is until they found a great new game.
| | |
| --- | --- |
| Camping with the cows at Mary Pools | Sunset over Mary Pools |
Hawkeye Zoe spied some fish trying to climb the waterfalls flowing from the causeway sluices. This was of course impossible so she decided to intervene and help them on their journey. Many hours were subsequently spent catching leaping fish & transferring them into bottles. At the end of each session they were then released, amazed, into the pool they had been trying to reach for goodness knows how long.
Many crazed fisherman 'are mean' (in Zoe's eyes) as they offered to use her catch as live bait for 'real fish'.
We can now boast of a fishing day when we (mostly Zoe) caught & released tens of fish even if they were rarely bigger then 1 inch long.
Finally the time came & we left for Derby.
En route we stopped in Fitzroy Crossing. This was a traumatic time for Robbie as we had to forgo the rodeo there in order to attend the simultaneous festival in Derby.
We arrived in Derby after dark & merely grabbed Chiko rolls for dinner before heading off to the speedway for a night of car & bike racing. Our attendance was providential for the organisers as it caused the number of spectators to exceed the number of competitors.

At the end of the night, just before free-camping in town, we were pleased to hear of the progress in Australia's flogging of the English cricket team.

Some spectators at the speedway sat on couches setup on the back of their truck. Others used the bar and drink area.
7/7/2001 Derby
This was a big day at the festival. We started off at the CWA market. There were 2 highlights - frozen mango for $3 a cup and second-hand books for sale.
Most of the day was devoted to the festival talent quest. Some of the entrants were very good & some were distinctly not so. It was a good way to meet the locals as in the following days one we were often treated as acquaintances because we were familiar. We sat in the heat - enjoying $1 frozen mangos on a stick - very yummy.
Derby Boab Festival Country Music Competition -
Ronnie Jamieson, Geoffrey Fletcher, Bernard Wallaby (grandson) and Others
(Bush Balladeers Band)
We made the mistake of believing a TV guide & raced back to the van (in the van park) to watch the second Ozzie V Lions rugby test. It wasn't on but we were very happy to catch the result - a spectacular thrashing by the Ozzies which was a sweet reversal of the first test.
We returned for a few more acts and noticed the increasing number of inebriated locals. The organising committee apologised that the hired security company had not turned up so they had decided to close the bar at 9:30pm. We had noticed only one slightly aggressive bloke - who settled down - but the feeling was changing as the night continued. Therefore, we left for bed at about 9.30. The alcohol issue is a sad reality that these communities have to live with. Derby has gone out of its way to put on a good show and we really appreciated the opportunity to see the local culture and life at the top end.
8/7/2001 Derby
It is really hot & humid here but we're so tough that at 7am we were ready & waiting at the town pool for the Bush Poets Breakfast.
This was great. It was a good mix of music, poetry recitations & original offerings. Some were hysterical. They even had a local Bavarian couple add some international flavour with their guitar, accordion, yodelling and singing.
Now in case any readers have not had the privilege of watching a bush poet's performance.... it is an art form that we think is rekindling. The poet acts out the verses - and their ability to capture the characters of the bush and Australia adds such colour. The poems are not always funny - some are rather moving and observant of issues e.g.. the halting of electrically using tidal power in Derby due to greenies - even though the EPA gave it a positive review.
| | |
| --- | --- |
| Boab Festival Bush Poets Breakfast - included poetry, performances and music | Keith Etheridge Performing some of His Poems - very funny |
It was cloudy today which is quite a change for us and so humid. We can't imagine what it is like in the wet season. We were very tired so we tried to grab a nap at lunch time. It was so hot that we tried to get a powered site in the van park so we could utilise our air-con. It was full. We managed to find a place near the mud-flats (very easy in Derby) in the shade of a tree (not easy in Derby) with breeze off the sea - where we slept for a while.
Being duty bound we ignored the heat & headed of to the Bazaar Family picnic. It was certainly a bizarre picnic as it was in fact a showcase of local school kid musical & art talent with not a hint of a picnic. The kids/bands were great and as usual, locals enjoyed and danced to the music.
We left early to attend a local church recommended by one of last night's contestants. We found the van had suffered a minor break-in. We had invited it by parking in a place (next to the park we were sitting in) that became 'very dark' after the sun had set. We had left the louvre windows open. Someone had pushed the flyscreens in & slightly forced the louvre in searching what items of value lay within arms reach. There was nothing (Robbie insists on everything being locked in the box or is carted in the back pack with us). The damage was so slight that I fixed it. Those of you who know the degree of my incompetence realise straight away how slight the damage was.
Church was great. Our kids find these aboriginal churches 'more real' than their Sydney counterparts. Jake especially is blossoming.
We slept peacefully that night near our 'nap stop' on the road out to the jetty - in the breeze.
9/7/2001 Derby
It rained all day. This was very strange. The great news was that the same weather pattern had partially broken a huge drought covering most of WA. A small but significant side effect was that wild-flowers will be prolific when we tour the southern half of the state. Wildflowers only appear 5-12 weeks after rain so the timing was perfect for us but not for the farmers.
Last night at the church we had discovered that 10 people were there from Sydney, Melbourne & Perth who had arrived independently to help refurbish the church building. We decided after re-provisioning in the morning to join in. They were a lovely group of people - working like crazy to get as much done before some left the next day. We ended up staying for a late dinner. Robbie contributed one of her curries.
Some of the helpers at the church - ?, John, ? Anne, Gillian, Jane, Ron, Zoe, Robbie, Norm, John (pastor) (apologies for not remembering all names)

Zoe showing how they do things big in the top end -
try out this 6lb loaf!
10/7/2001 Derby
I realised with a shock this morning that I needed to urgently attend to our company's annual group certificates & worker comp return.
Needless to say that after 4 months away I had not only lost the workers comp forms but also had no idea of the figures needed for the group certs. Combine these problems with the fact that we found out on Sunday that the people renting our house till late September are, in fact, leaving next week. Three major problems we needed to try & resolve today.
With the help of a very helpful tax officer in Perth I got the figures I needed & completed the forms. A similarly helpful person in Sydney arranged to send replacement workers comp forms to Broome. I then found the workers comp forms that I had misplaced & completed them.
Unfortunately the house problem wasn't as easily solved.
So far we had used most of the day so we decided that we would remain in Derby again spending the rest of the day fishing from the wharf as it was high tide so it,s not the customary 4 storey drop to the surface of the water. At least at low tide the salties are well out of reach. It is another must do when travelling - ie. fishing at the Derby wharf - boasting the 2nd biggest tides in the southern hemisphere.
The amazingly friendly sand-files introduced themselves to us en masse that evening. Three of us were covered in welts. It didn't please us much when a local told us that we weren't actually bitten but peed-upon upon these insolent creatures.
11-12/7/2001 Telegraph Pools
We camped at the racecourse overnight then headed out around 9:30am for a 100 km drive to a camping area near the mouth of the Fitzroy River, on a property that permits campers to stay there. This was a nice surprise - after a bumpy, dirt road. The camping was secluded, next to a crocodile infested river - with appropriate signage at the property gate. This made mum a bit nervous - so all fishing had to be done a metre back from the higher banks. We enjoyed great camp fires, cigar, Sambucca, songs and mozzies, the latter being out in force. Unlike Derby there is no plague of sand-flies.
We thought of Peter P. This would have been an idyllic spot for him - especially with the Weber dinner.
For the next couple of days we relaxed & did not nothing - except for Jake & Zoe who again did a bit of school work. The pleasing result was that they finished their 2nd term work ahead of schedule. During their many breaks they caught a number of fish in the river & returned them lovingly to the river to be almost certainly eaten later by birds, crocs or larger fish.
We walked upstream a little & saw numerous crocs on the far bank.
| | |
| --- | --- |
| Preparing a Lamb Roast Next to the Great Fitzroy River | Fishing on the Fitzroy at Telegraph Pools |
13/7/2001 Derby
Today we returned to Derby as the Boab festival was beckoning.
First stop was the camp draught portion of the rodeo. It was a beautiful day watching the consummate riding skills on display as the entrants cut out a steer then tried to guide it through a course on horseback. A few steers demonstrated their skills by hurdling the 1.7 metre fence & headed of on a frantic unguided tour of the town, often with a cowboy in pursuit. They were a bit short of staff So Robbie joined in the fray by leaping about behind the fence in case a steer looked like going on tour. If this didn't succeed in deterring the beast she made a speedy (but elegant) retreat to make way. She was wearing a red shirt which seemed to beckon to some of the steers. Meanwhile I was tending one of the gates in the ring at the cutting out yard. If there had been a seat it would have been the best in the house, if there had been a house. It was very exciting as, in addition to letting cowboys & cowgirls in & out of the ring, I was part of the intricate mechanism devised to lure the reluctant steers from the arena.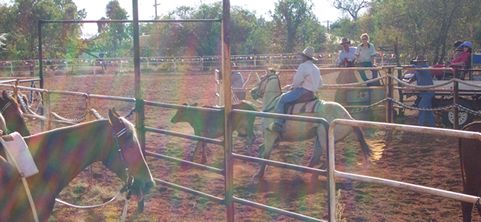 At the appointed time we moved up the road to watch the Boab parade. It was fun & indistinguishable from that at the Alice ( & even Green River in the US). That led onto the Mardi Gras which was local music with a small carnival. Virtually all the attendees were aboriginal and we were adopted almost immediately by Auntie Alice. Her daughter had just been crowned Boab Queen and she was celebrating by having a few beers. This was not easy as this was a dry area. She adopted us at least partially because security guards didn't check the whites too diligently for booze and she left her cache in our custody while she danced with one or more Elliots. We got to meet a host of relatives & were invited back to her place next day for a feast of turtle caught that day (Turtle).
| | |
| --- | --- |
| Boab Festival Float Parade | |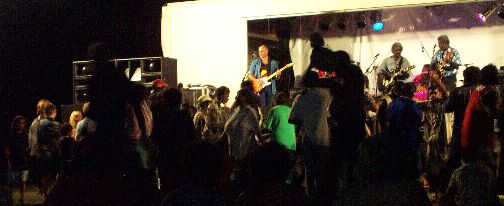 Concert - Jake was Dancing with Auntie Alice (left)
As the effects of the alcohol became more obvious around us we retreated for the night to our free site at the rodeo grounds.
14/7/2001 Derby
Today we bypassed the rodeo & wandered casually past Auntie Alice's supposed residence. There was no obvious sign of life so we plumped instead for an Elliot first - the Kimberley Motocross Championship.
| | |
| --- | --- |
| | Dad's special vantage point to watch BMX action - hot and prickly |
We scouted the complex & found that the best vantage point was not in the "stands" (these 2 stands had seating for about 10 people each). In fact it was just outside the fence in the scrub not far past the first bend in the track. We enjoyed the action immensely but the increasing heat caused us to gradually erect a humpy-like structure. By the last event our palace comprised a wire fence, pink sheet, 4 pegs, 2 umbrellas ( one black, one green) & 2 small saplings.
That night we headed off to a dance exhibition & hungi put on at short notice at 6.00 by the local Torrres Strait Islander population. However we had a major conflict of interest as we had been advised that the 3rd rugby test against the Brits was being televised at 6.30. In the end we did both - Robbie & the kids went cultural while I went to the TV. Robbie relented just before half-time & arrived to watch on the pretence of bringing me a plate of 'hungied' food. It was beautiful.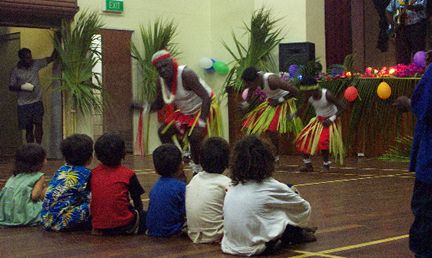 Torres Strait Island Culture Night
We thoroughly enjoyed the Aussies winning the match & series although I thought the Brits were unlucky in this game.
The kids rejoined us after the game having thoroughly enjoyed their evening. We returned to the rodeo ground for the night.
15/7/2001 Derby
Big rodeo day. Outstanding day with some of the best bucking horses & bulls we've seen yet. We spent the day in the shade of a large tree but it was not big enough. There was much shuffling of positions amongst the 'shadees' as the sun traversed the sky.
| | |
| --- | --- |
| Derby Rodeo - Well Run and Entertaining | The Rodeo Crowd - Sheltering Under Trees |
| | |
| --- | --- |
| After the rodeo we attended a combined church concert in the civic centre where a family from the Gong was presenting a musical evening. They were talented but I found them a little sus & spent a lot of the time outside watching our kids play energetically with a bunch of aboriginal kids from the churches. I experienced the first tiny bit of aggression towards me from a drunk local. He took exception to the fact that I had no cigarette to offer him. Five minutes later he returned with abject (like I have never seen before) apologies for being objectionable outside a Christian function. It was very touching but quite bizarre. | The Kids - Having Fun Outside the Concert |
Then, guess what, we returned to the rodeo ground for the night.
16/7/2001 Windjana Gorge
We took to the dirt today on the infamous Gibb River Rd. It was in excellent condition as was the side road we took to get to the gorge.
| | |
| --- | --- |
| Windjana Gorge | Windjana Gorge |
The Napier Range through which the gorge is carved is spectacular - supposedly an ancient barrier reef.
We did a short wander on arrival & saw a bunch of freshies in their specacular home. We returned to find ourselves tented in by a mini tour group.
Luckily we erected our awning before dinner as, afterwards, it poured with rain. Unhappy campers washed past us as we sat comfortably outside under the awning as Zoe practised her newest instrument - guitar.
The rain was a concern as we need to get to Fitzroy Crossing tomorrow to met dad & Jo. We have 110km of black dirt road in the way & at least one creek crossing which is at a borderline level for us already. The alternative is a 450km detour via Derby so we retired for the night with all digits crossed.
17/7/2001 Windjana Gorge & Tunnel Creek
The morning dawned fine so we spent the morning wandering fascinated through Windjana. It is a marvellous place with everything.
The wildlife we saw included freshwater crocs (over 30), an owl, royal spoonbill, corellas (100's), ghost bats, fruit bats, cockies (black & white), royal bowerbirds (plus nest)
The trees & flowers & really diverse & lush. They are superb backed by the oranges, blacks, pinks & whites of the cliffs with the water reflections.
Finally, the cliffs themselves are a colour spectacular plus they have interconnected caves and flowstone sculpted into huge & brilliant columns, shawls & stalactites - all hanging off the cliffs (outside). There are even some art sites.
The gorge is 3.5 km long but we spent so long gawking at its beauty, the 5 hours we had proved insufficient to reach the end even though the path was very easy.
After a quick lunch we drove along more (& only slightly wet) good, dirt road to Tunnel Creek grabbed our torches & walked into this legendary hideout of the aboriginal Ben Hall - Jandamurra.
This is another outstanding site and unlike anything I have seen before. During our visit the depth of the creek in the tunnel through which we waded didn't exceed my knee height & 90% of the walk was on sand. Consequently it was an easy walk. The tunnel is about 800 metres long, 30 metres wide & 10 metres high. Half way through a piece of roof 30 metres square has caved in with the result that just as the light from one end finally disappears light from the next end has just appeared. Hence you are often in total darkness but you can always see a tiny light in the distance. This is very good news for claustrophobics. Both ends of the tunnel plus the cave-in are spectacular. As a bonus there is a magical waterfall in complete darkness. When illuminated by torchlight it proves to be variously coloured (mostly white) flowstone resembling jellyfish tentacles of course covered with flowing water. It is a tiny undercover version of Permukale in Turkey.
Again we were forced to leave & drove nervously across the black dirt to the infamous creek crossing which we had been concerned about for 2 weeks. The dirt wasn't a problem but the water level was high enough to force us to walk it to check the depth against the air intake of our motor. We made it by 5 cms. We drove it very slowly & successfully.
We camped just off the road that night adjacent to a peculiar range of low hills 10km from the highway.
18/7/2001 Met dad & JO at Fitzroy Crossing
The drive in was uneventful & we were really keen to see dad & JO As it turned out we arrived at their motel 4 hours before them so we used the time to get rid of the dust inside & out as we have no dirt road for a week or so. Showers and 3 loads of washing also helped our general social acceptability
Dad & JO arrived at the van amidst enthusiastic greetings from all sides. They were glad to see the sun as they had seen much rain in Broome - 4 inches in one day.
They had obviously been thinking during the 4 hour drive from Broome & recommended that we zap out to Geikie Gorge to catch the days last boat cruise & zap we did - at 120 kph (this is close to light speed for us). The cruise was very nice with lots of basking freshies & reminded us a lot of Windjana - not surprising as both gorges traverse the Napier range.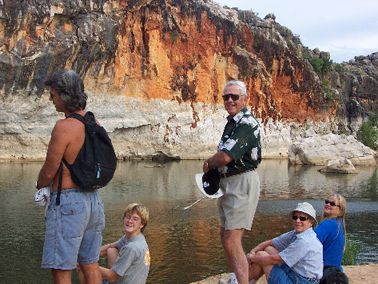 Gieke Gorge
Back in town we stayed at the van park attached to dad's motel. Dad & Jo joined us for dinner in the van.
19/7/2001 Geikie Gorge again
We spent the morning in dad's room talking through our trip via our web site. Jo & dad especially have travelled hugely in Oz so lots of yarns were swapped.
After lunch at the van we returned at warp speed to Geikie gorge to do the walk. I had an argument with an over-protective ranger over the desirability of allowing commercial canoe operations as they do at Katherine Gorge.
The walk was very nice but compared unfavourably with its neighbour (Windjana).
That night the ever-generous dad & Jo shouted us to a posh nosh at 'the Lodge'.
20/7/2001 To Derby
We had free-camped out of town so we arranged to meet dad en route somewhere for morning tea. We eventually waited for them at the turnoff to Broome. They arrived soon after laden with muffins which we scoffed.
That afternoon we visited the 3 tourist sites of Derby - prison Boab, museum & wharf. The highlight was showing our guests, first-hand, the horrors of the Derby sand-flies. We escaped this time with little damage.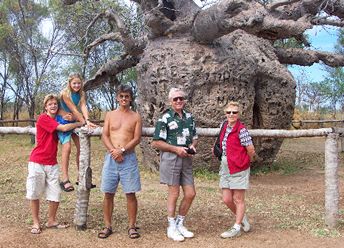 Prison Tree at Derby
I saw the seedier side of Derby that evening while waiting outside Woolies as Robbie shopped. A long stream of drunk aborigines staggered past fighting & urinating. I was disappointed as I hadn't seen this on such a scale in Derby & had assumed that this town was in better shape than others in the top end.
Once again we were shouted to dinner. Afterwards we camped at the rodeo grounds.
21/7/2001 Gibb River road
Dad & Jo had the bizarre thought a drive to Bell & Windjana Gorge would be a nice day trip so we lifted-off early this day.
250km of mostly surprisingly good dirt road through the Napier & King Leopold Ranges took us to lovely Bell Gorge. It was a long hot walk which inspired the Elliot juniors to take the plunge. The falls there are very pretty as are the surrounding hills. As you can, guess time was precious so we lunched on the run as dad let me take the wheel for a rampage back to Windjana.
This gorge was no less impressive on our third visit in a week. Dad & JO were suitably impressed & deferred our departure to as late as possible. An unfortunate consequence was that dad spent the next 90 minutes driving into the setting sun. At one stage we had to stop for a beach stone curlew which, despite its size, felt it had right of way. This is in direct contravention of the law of the dirt road - 'might is right'.
| | |
| --- | --- |
| Bells Creek Gorge | Windjana Gorge - Playing with the Crocs |
That night dad showed remarkable resilience. I would have been exhausted after a drive of that type & duration but he was fine. We again dined as their guests at their motel in Derby. We returned for the night to our beloved rodeo ground.